Arcoro is excited to announce we will be offering time card editing within the ExakTime Mobile app! Users out in the field will now be able to make changes to time cards, their own or for others within their viewset, with a few simple steps. Updated time records will be reflected on both the web and mobile time cards.
In order to take advantage of time card editing, a user must have appropriate permissions, their mobile device must be online, the time card must be in an Unapproved state, and the pay period must be open.
Enhancements
Mobile Time Card Editing
Security Permissions
We have added new ExakTime Mobile security permissions for time card editing. By default, Administrator and Supervisor security roles will have full editing permissions.
For more information about ExakTime Mobile Security Role permissions, you can refer to the following article.
Add Time
Tapping the Add Time button will open a new screen to allow the user to add a new time record to a day.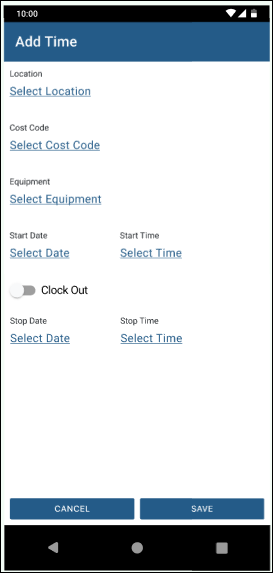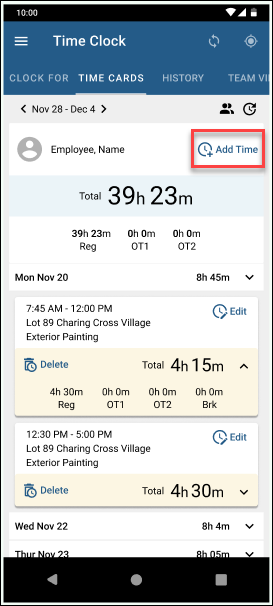 Edit Time
Tapping Edit on an existing time record will open a new screen to allow the user to make edits to that time record. Time record field selections will be pre-populated. Once a field is modified, it will be noted with Changed. In the example below, Location has been updated from Sweet Water Trolling to Location 1 and Stop Time has been modified from 12:00 PM to 11:00 AM.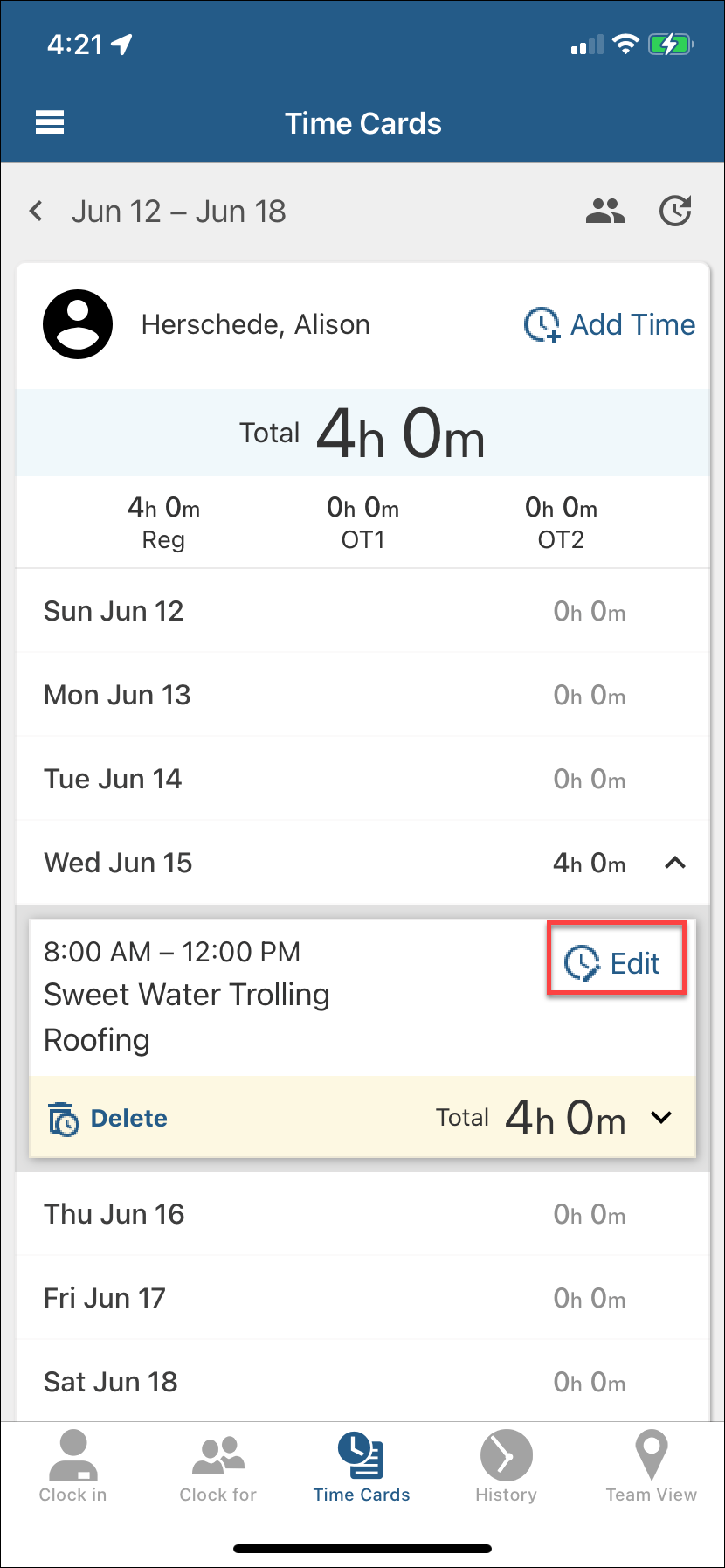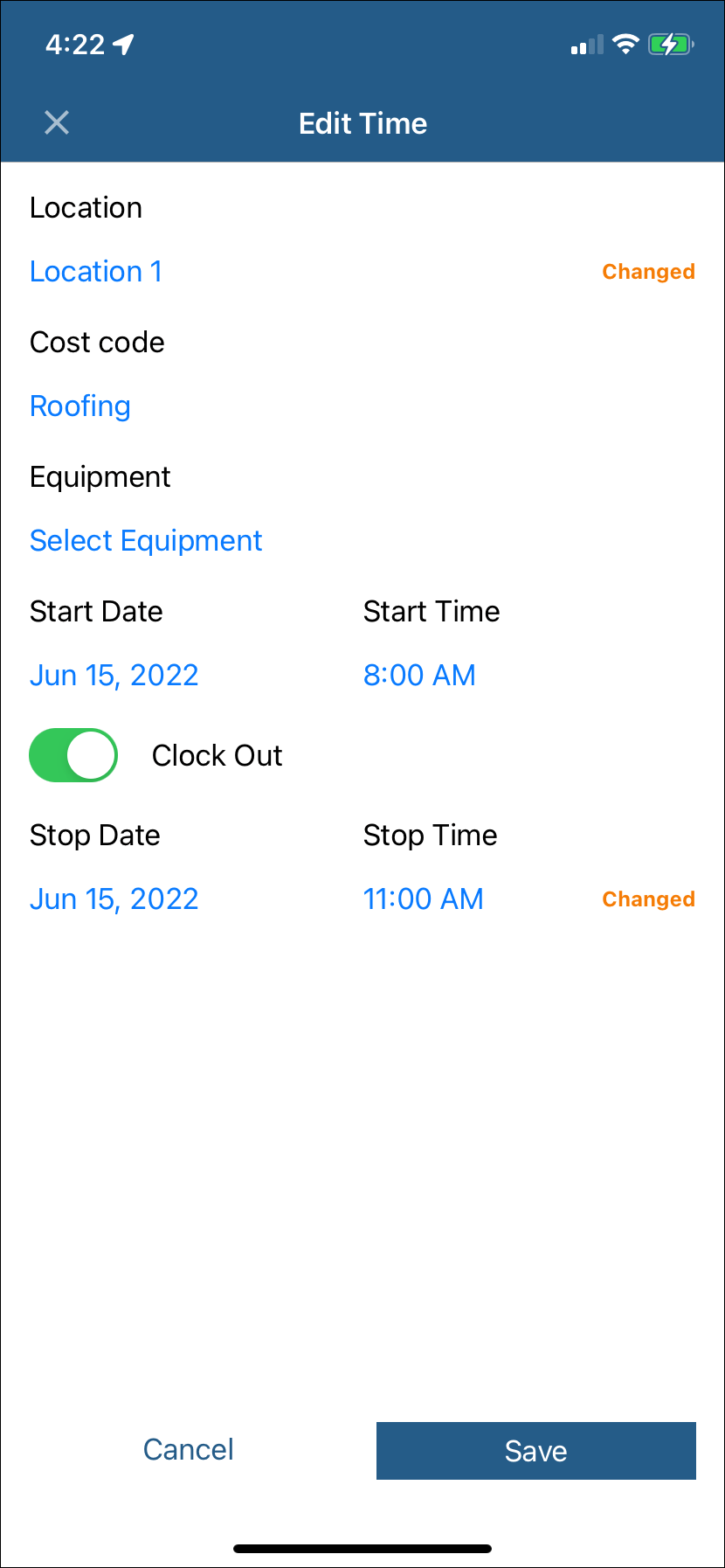 Delete Time
Tapping Delete on an existing time record will open a confirmation screen. Tapping Delete from the confirmation screen will permanently delete the time record.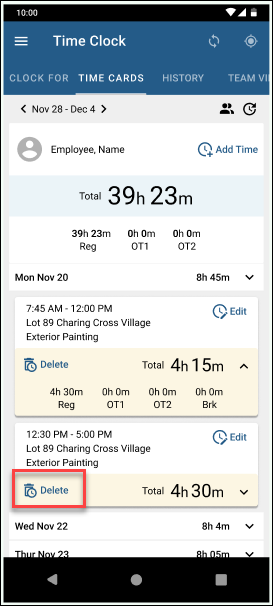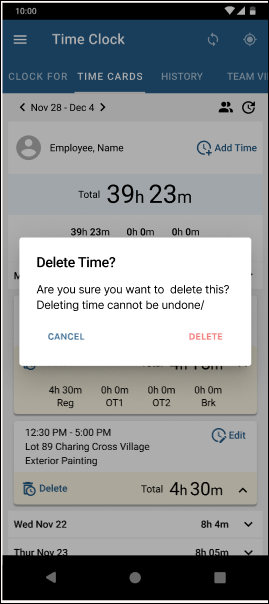 Mobile Device & App Requirements
Editing Mobile Time Cards feature is available on both iOS and Android platforms for phones and tablets. Users will need to be running an iOS/Android operating system version that is supported by ExakTime Mobile and be on ExakTime Mobile version 2.84 or higher to get the updates.
Supervisor Approvals for Mobile Time Cards
For customers who utilize time card approvals, field supervisors are now able to approve employee timecards via ExakTime Mobile.
Security Permissions
We have added new ExakTime Mobile security permissions for supervisor time card approval.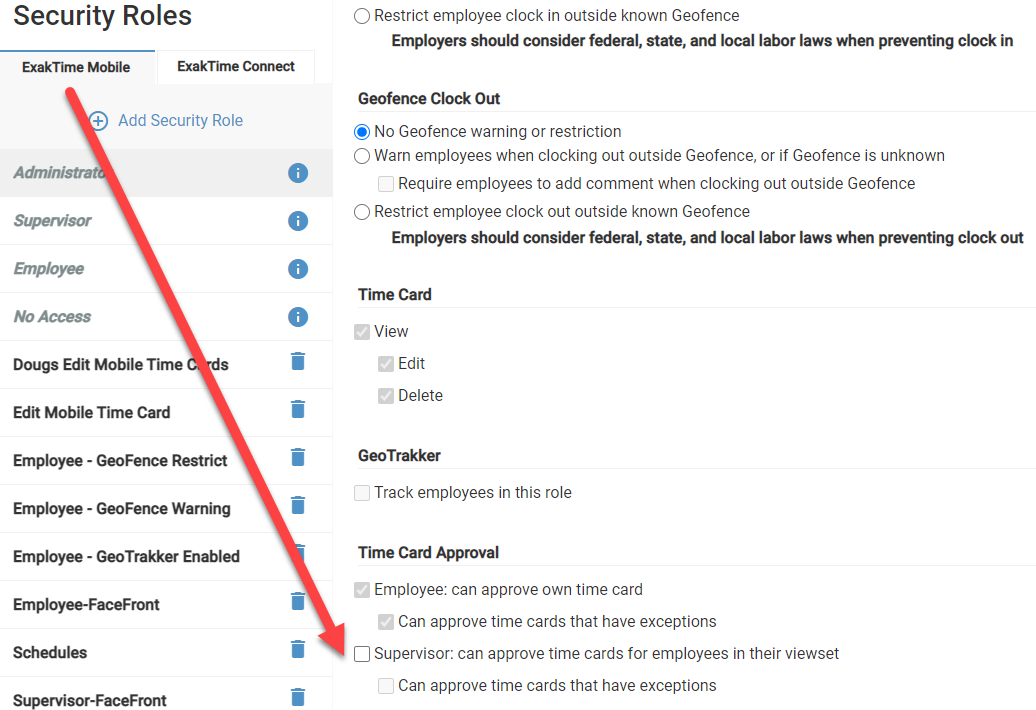 ExakTime Mobile
Within ExakTime Mobile, employee time cards that are within the supervisor's viewset will be located in a list beneath the supervisor's own time card in the Approvals area.
To approve an employee's time card, the supervisor will tap on the Approve button in the individual employee card.
To remove a supervisor's approval, simply tap on the Unapprove button.
If the Approve/Unapprove buttons are disabled, one or more of the following might be true:

The device in use is offline (No Wi-Fi or Cellular Connection, or limited internet access).
The pay period is closed.
The employee's time card has zero time.
The supervisor does not have the 'approve time card with exceptions' permission, and a particular timecard contains exceptions.