This tab allows you to tell the system when to look at compensation for the employee for compensation dependent benefits like Long Term Disability, Basic Life, Short Term Disability, and Voluntary products that are generally based on the employees' earnings.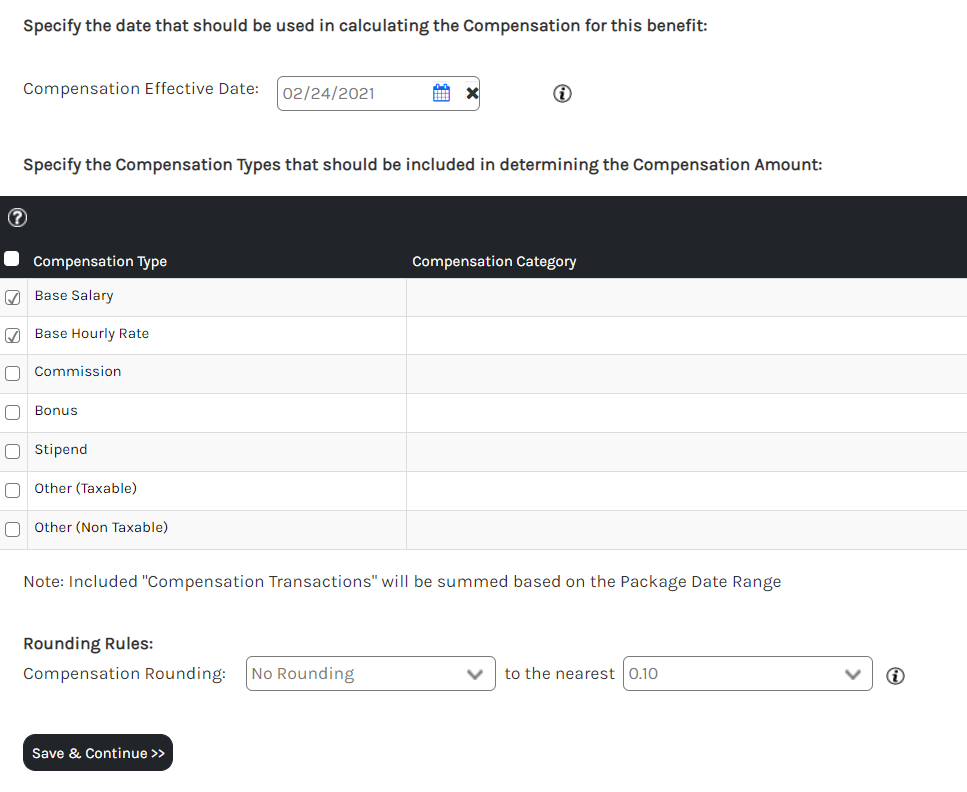 In most cases, you will set the date to match the start of the benefit or the benefit effective date. In other cases where Salary is looked at and recalculated until the end of the year, the date populated should be before the benefit starts or at the benefit expiration date. If the benefit is not looking at compensation, please make the compensation effective date match the effective date for the benefit without any boxes below the date being checked. If the employee has compensation that is not present at date of hire or before the effective date of the benefit, employee will not see any coverages for the benefit.
For compensation based benefits you will want to tell the system what compensation to look at for the employee when giving coverage and costs. This can be done by selecting the checkbox to the left of the compensation type below. Commonly only Base Salary and Base Hourly Rates are checked but feel free to select others.
The trace utility on the Employees > Benefit > Benefits page when editing the benefit range of the employee will tell the administrator the compensation being calculated for the employee.
Rounding Rules
Compensation Rounding - Round the employees compensation before coverage is assigned based on compensation. You are able to utilize this if the compensation has to be rounded up, down, or standard before you derive a coverage based on say 60% or 2 times salary. This only rounds the compensation, coverage rounding is configured at the plan level of the benefit.
You can apply rounding after or before converting the compensation amount from annual to monthly or weekly compensation.
'After' would be used traditionally. An employee who makes $58,500 annually would have their compensation divided to a monthly amount of $4,875.00 and then to a standard 1,000 rounding to $5,000.
If 'Before' is used then the annual of $58.500 is rounded to $59,000 before being divided by 12 for a monthly amount of $4,916.66. This affects the coverage given of 60% for $5,000 or $4,916.66 even though the employee's compensation is the same.