Events represent structured processes for how employees change their information through the Employee Portal. An Event must be enabled and configured before employees will be able to initiate the event on their Employee Portal. Once an event is active and configured, then the event will appear in the Event drop-down field on the Employee Portal.
Navigating to Events for the Employee Portal
Expand Setup and click Setup Properties from the menu.

Hover over 'Employee Portal Setup' and click Employee Portal.

Click the Events tab.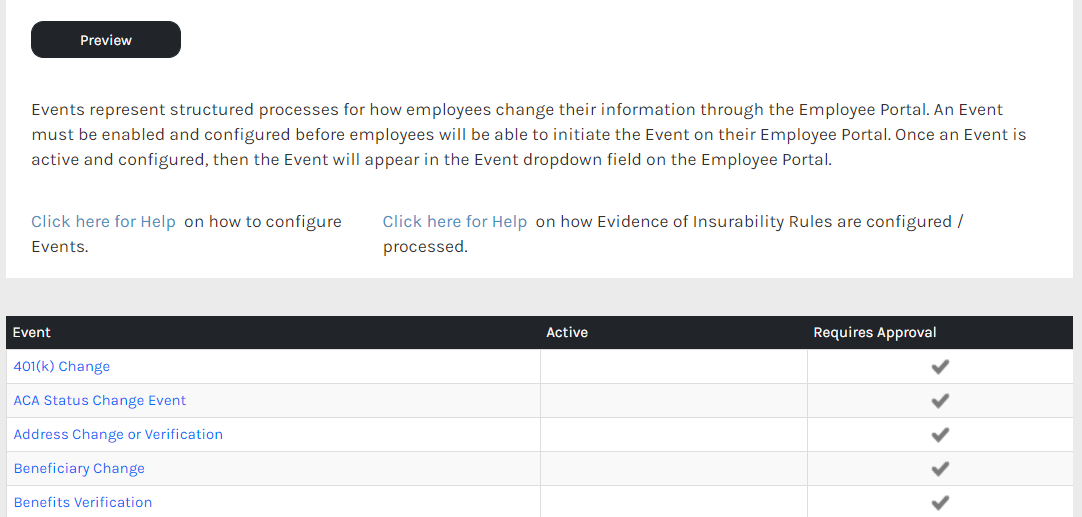 Configuration
The Events screen found within the Employee Portal setup provides a list of all configurable events available within the system. This list represents the most commonly used events relating to Benefits and Employee Data.
For each Event, additional Properties must be configured that affect how the Event will be viewed by the employee and what the employee can do within that event.
To configure an Event, click the link for the name of the Event.

When configuring an event, you can use the following tabs/screen:

Available Events
Please note that some Events are only relevant if you have enabled certain optional features. The below chart illustrates which Event is tied to which contracted service.
**If the event can be enabled for Core HR as a stand-alone product, the Core HR column is marked. If the Core HR column is not marked, the associated Product would have to be a contracted service for the Event to be relevant.
| | Core HR | Benefits Management | ACA | Time & Labor Management | Payroll |
| --- | --- | --- | --- | --- | --- |
| 401(k) Change | X | | | | |
| ACA Status Change Event | | | X | | |
| Address Change or Verification | X | | | | |
| Beneficiary Change | X | | | | |
| Benefits Verification | | X | | | |
| Birth, Adoption, Gain Legal Guardianship | X | | | | |
| Children Health Insurance Program (CHIP) | | X | | | |
| Commencement of Domestic Partner | X | | | | |
| Death of Child | X | | | | |
| Death of Dependent | X | | | | |
| Death of Spouse | X | | | | |
| Death of Spouse or Domestic Partner | X | | | | |
| Dependent Becomes Eligible | | X | | | |
| Dependent Becomes Ineligible | | X | | | |
| Dependent Care Cost Change | | X | | | |
| Dependent Verification | | X | | | |
| Direct Deposit Change | X | | | | |
| Divorce or Annulment | X | | | | |
| Domestic Partner Changes Employment (gains coverage) | | X | | | |
| Domestic Partner Changes Employment (loses coverage) | | X | | | |
| Election Change Under Another Employer Plan | | X | | | |
| Emergency Contacts Change | X | | | | |
| Employee Loses COBRA Coverage | | X | | | |
| Employee Relocation | X | | | | |
| Federal Tax Withholding Change | X | | | | |
| HSA Contribution Change | | X | | | |
| Loss of other Qualified Group Coverage | | X | | | |
| Marriage | X | | | | |
| Mid-year request to change life insurance and/or LTD | | X | | | |
| New Hire | X | | | | |
| Open Enrollment | | X | | | |
| Parking and Transportation Changes | | X | | | |
| Pet Coverage Change | | X | | | |
| Spouse Changes Employment (gains coverage) | | X | | | |
| Spouse Changes Employment (loses coverage) | | X | | | |
| State Tax Withholding Change | X | | | | |
| Status Change | X | | | | |
| Termination of Domestic Partner | X | | | | |