ExakTime Connect administrators are seen as the "king of the castle" if you will, and typically have a long standing within your company with access to all facets of the ExakTime Connect system; however, it may be necessary to delegate certain tasks to a bookkeeper or payroll personnel.
In this scenario, you may wish to give them access to Time Cards and editing, but not the rest of the system. Below are useful steps for creating a new user with a custom created Security Role that will give them access to editing employees' time but limit changes they can make elsewhere.
Creating a Unique Bookkeeper or Payroll Manager Security Role
Of course, you can simply give the user Administrator access; however, creating a role specific for that user allows one to control their permissions and access to avoid unwanted changes to company settings and policies. To create a new role, follow the steps below:
In ExakTime Connect, go to Manage>Security Roles
On the left, click the ExakTime Connect tab
Select 'Add Security Role' and give it a name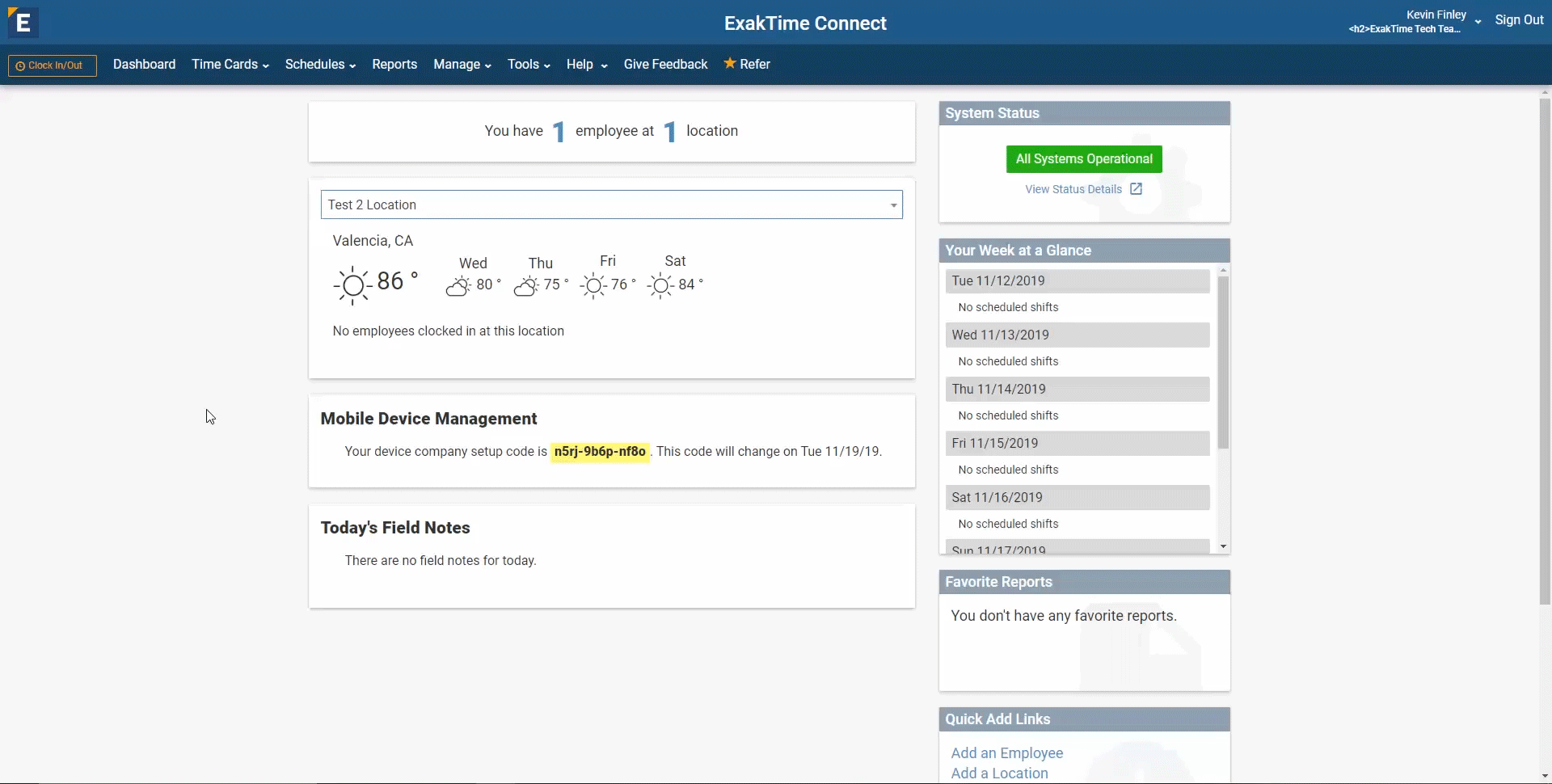 By default, the "Permissions" tab should be highlighted. As the Tip says, this tab is where you can control what employees (users) see and do in ExakTime Connect. Make sure Allow employees in this role to sign in to ExakTime Connect is set to "Yes".

Below that is a comprehensive list of all the permissions available within ExakTime Connect. If you want to allow this Bookkeeping role to do more than just edit a user's time, you'll want to thumb through the permissions and activate them as necessary. Each permissions has an access type option:
No Access - User is not allowed to use this function in any capacity
Access All - User is able to use the function to its full potential
View - User can view the relevant settings or entities but not edit
Edit - User can view and edit the relevant settings and entities
Add - User can add and view relevant settings and entities, but not edit after saving
Edit & Add require View access thus will automatically select the box for View when clicked, whereas Access All requires all access types and will automatically select all boxes except No Access which will deselect all boxes.
For understanding each permission and what it does, see the supplementary guide: ExakTime Connect Permissions And What They Do
Otherwise, for the purposes of time editing, you'll want to focus on the following sections of permissions:
Time Management
Time Card Summary & Details
My Time Card
Tools & Communication
Reports
Allow access to all reports
Of course if you enable features like Time Card Approvals or Pay Period Closing, you'll need to adjust to compensate for those sets of permissions as well. In that event, refer to the aforementioned ExakTime Connect Permissions help guide. Be sure to save your changes.
Creating a New ExakTime Connect User
Next, you'll want to add the new user to ExakTime Connect. Like any other active employee in the list, this user will consume 1 ExakTime Connect employee license. If you've already added the employee to ExakTime Connect prior to this, go to Manage>Employees. Find the user in the list and select the

icon to the left of their name. Then, you can skip down to step 4 below.
Note: Inactive Employees cannot log into ExakTime Connect
To create a new employee, do the following:
Go to Manage>Employees
Select "Add Employee"
Fill in their first and last name; if you use Employee IDs, fill that in as well
Scroll down to Security Roles; for ExakTime Connect Security Role, select the name of the created role from the previous section of this guide
Make sure the employee has a valid email under Contact Information and username under ExakTime Connect Security Role.
Towards the top, click the Viewset tab. From here, select if the user will need to see Only themselves, All employees, Selected employees, or Selected employee groups
Save.
After their information is saved, they should receive an email with a link to create a password. This link expires after 72-hours and should not be used again after password creation is completed.
Logging in with the New Role
Once the user logs in, they will land on their Dashboard page; however, they will not see all the same items an Administrator as the role has been limited by permissions set previously. They should have access to Dashboard, Time Cards (with subsequent dropdown functions), and Reports.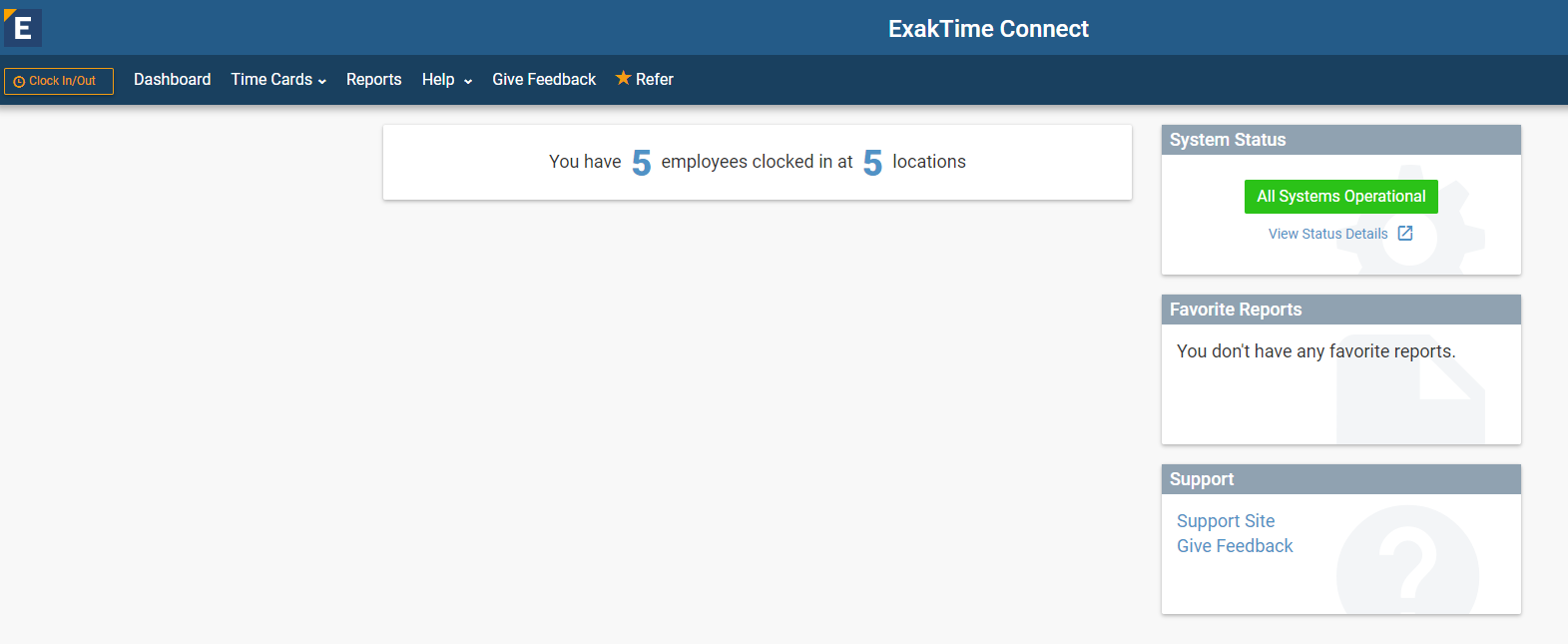 With the permissions set for this Security Role per this guide, the user can access the Time Card Details screen to view users in and outs punches, daily totals, weekly totals, and totals for the pay period. This includes being able to edit, add, or delete a specific punches or entire records. Additionally, they can use the Bulk Time Entry function to add one time record to multiple time cards simultaneously. They're also able to run reports should they need to see a breakdown of information in a printable format.
As an Administrator, if the need to audit changes made to time cards arises, under Reports>Audit there are two available reports that track the changes:
Time Modifications by Affected Employee - Displays all manual changes to a punch, grouped by affected employee.
Time Modifications by Editor - Displays all manual changes to a punch, grouped by who made the change.
Editing Time Records via Time Card Details
The following information covers the best practices for editing time effectively using Time Card Details. As employees clock in and out, their times will be consolidated and calculated on their respective time card.
You can review, edit, or add to their time card from the Time Card Details page.
Go to Time Cards and click on Time Card Detail.

Reviewing Time
When you first click on Time Card Detail, you will be brought to the Employee View and see the first employee in your employee list.

To change the date range of time to view, use the pay period selector or select a custom date range.

To view an employee's time card, select the employee on the left hand side. Any employee with no time will have their name gray and italicized, while employees with time will have their names in black.

- Any red exclamation point symbols in a time card can indicate missing information that must be corrected by the administrator. This can be the result of a time entry not having a related clock in or out. If the employee may still be working, the missing time should not be corrected until you are sure that they are no longer working.


Next to every start and stop time is a small "i" icon in a circle. Hovering over this icon shows you their FaceFront photo in any and/or their relative position during their clock in/out to their reported location if they were outside of the GeoFence for their location.

- If GPS information has been associated with a time record, you can view where the employee was during their clock in and/or out by clicking the globe icon.


Click Print View to print out the time card you are viewing at the time.

Adding Time
To add time, you can click Add Time at the top of the time card or next to the date if the employee has other time for that day. A new line will appear where you can specify the location, cost code, start time and stop time for the time record. When finished, click Save. After a brief delay, the hours for the time record will be calculated.
A comment can be entered for future reference.
You can add multiple time records for the pay period before saving to speed up the process.

Editing Time
To edit an existing time record, you can click either the pencil icon to the left of a time record or click on any of the time record fields to enter edit mode. You can then adjust information such as location, cost code, start time, etc. When finished, click Save. After a brief delay, the hours for the time card will be calculated.
You can adjust multiple time records before saving to speed up the process.

Deleting Time
To delete a time record, you can click the trash can icon to the far left of a time record. The record will appear grayed out showing that it will be deleted. When ready, click Save. After a brief delay, the hours for the time card will be calculated.
You can delete multiple time records before saving to speed up your process.

For more information on Security Roles or the Time Card Details screen, please see the following guides: Understanding Security Roles and In-Depth: Time Card Details