The "Approaching Overtime This Week" report shows Employees that are nearing or have exceeded the number of hours for weekly or bi-weekly overtime pay for the current pay period. It does not account for those approaching any daily, day of the week, or consecutive day overtime. This can be helpful in situations where you are trying to limit the number of overtime hours your employees are going to receive.
Date Range values are ignored for this report unlike others as it will only pull data from the current week.
Navigating to the Approaching Overtime This Week Report
Click Reports from the menu bar.

Click Approaching Overtime This Week under the Employee section.
Report Specific Options
The report offers the following report specific options: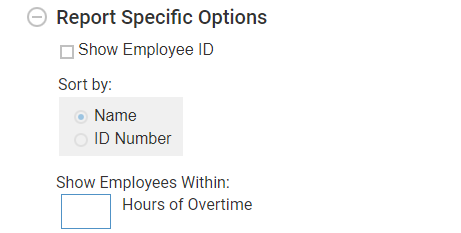 Show Employee ID - If enabled, the report will show the employee IDs with the employee names.
Sort by - Specify if the report sorts the employees by their name or ID number. Options will not be available if "Show Employee ID" is not enabled.
Show Employees Within - Specify the range of hours until an employee will receive overtime to be shown in the report. For example, setting this to 8 means an employee must need less than 8 hours before reaching overtime to be included in the report
Example of Report

The report will show a list of employees that are within the range of hours to receive overtime with columns for:
Employee Name
Total - Current total of employees' hours. If the number is red, then the employee is already receiving overtime.