The latest version of ExakTime Mobile allows your employees to be warned and/or restricted from clocking in or out to a location if their mobile device's GPS does not put them within the Geofence of their selected location when clocking in/out for themselves.
No Warnings/Restrictions with 'Clock For'
GeoFence Warnings/Restrictions will not appear if the employee is clocked in/out with the 'Clock For' function. The 'Clock For' function is intended for supervisors/managers and will not warn/restrict an employee if they are to be clocked in/out outside of a location's GeoFence. For more information about the 'Clock For' function, you can refer to the following article.
Requirements
For an employee to receive warnings or restriction messages when clocking in or out:
Allow Access To Location Services
For us to warn and/or restrict an employee from clocking in or out, ExakTime Mobile will need permission to access the location services of the mobile device. When first using ExakTime Mobile, it will prompt the user for permission if ExakTime Mobile can use the location services of the phone. For iOS, press Always Allow. For Android, press Allow.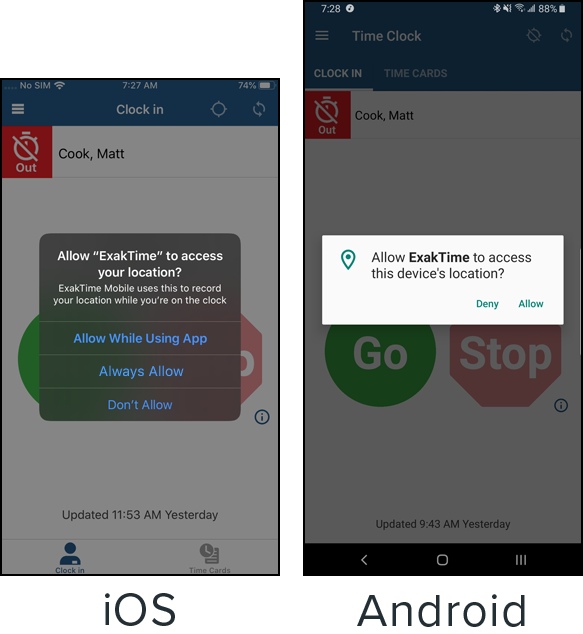 If the permission is denied, you can also enable the permission through the settings of your phone.
For iOS
Depending on the age of your iOS device, the steps may differ, but the idea is consistent.
Open Settings
Press ExakTime
Press Location
Press Always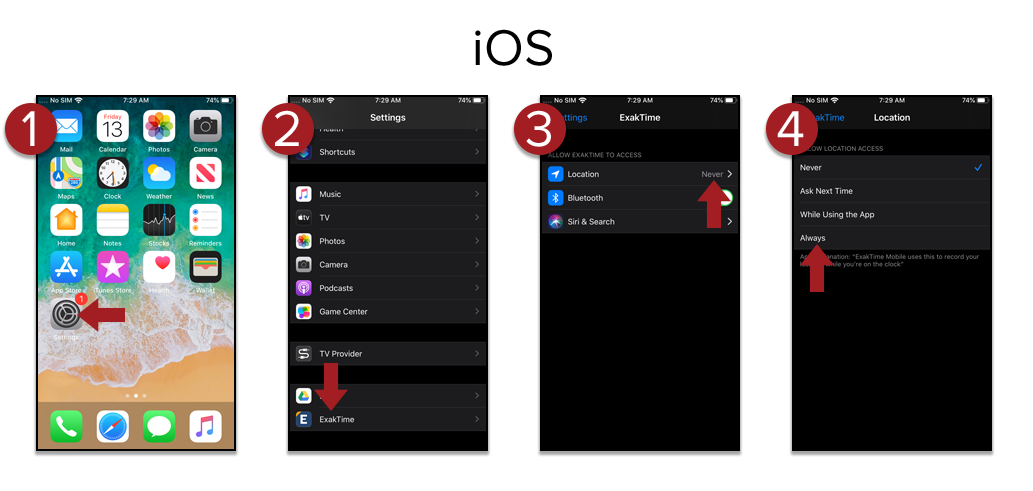 For Android
The steps below may differ depending on the manufacturer and version of Android, but the idea is consistent.
Open your App Drawer
Press Settings
Press Apps (May also be called Applications, App Manager, etc.)
Press ExakTime
Press Permissions
Enable Location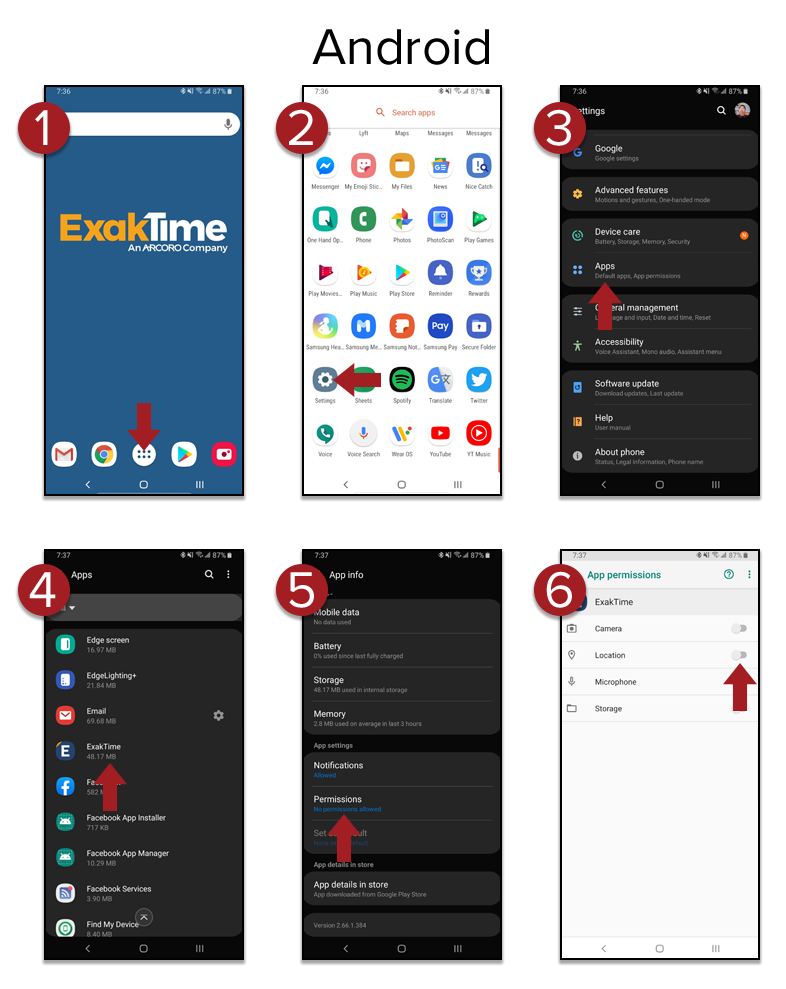 Enable Security Role Permissions
For an employee to receive a warning and/or restriction, you will need to enable the appropriate function on ExakTime Connect on the Security Roles page. If you need assistance regarding Security Roles, you can refer to In-Depth: ExakTime Mobile Security Role
Navigating to ExakTime Mobile Security Roles
Go to Manage and click Security Roles.

The ExakTime Mobile tab should already be selected. Select the ExakTime Mobile security role that needs Geofence warnings/restrictions enabled.


By default, there will be no warning or restriction if the employee is not within the Geofence for their selected location.
You can enable any of the following options as needed.
Warn employees when clocking in/out outside Geofence, or if Geofence is unknown

If an employee receives the warning, they will still be able to clock in/out.
Require employees to add comment when clocking in/out - Warning like above, but also require the employee to add a comment if they are clocking in or out outside a Geofence. The employee's comment will appear on their time card with the associated time record for you to review.

Restrict employees from clocking in/out outside a known Geofence

If an employee receives the restriction message, they will not be able to clock in/out until their device's GPS places them within the GeoFence of the location.
It is highly advised to consider federal, state, and local labor laws when using this setting.
Consider where employees are when they are clocking in or out. If your employees are expected to park their vehicles in a designated area, then travel to their worksite, they may begin their day outside of the Geofence of a worksite.
Other Considerations
Location Data & Permission
If the mobile device is unable to provide ExakTime Mobile with Location Data, it will always give a warning or restrict the employee, depending on the permission enabled.
This can be due to:
Lack of location data from the mobile device due to poor reception.
ExakTime Mobile does not have permission to use the location services of the device.
To ensure proper warning/restrictions, you can require the device's location services to be on and/or require a GPS fix before an employee is able to clock in/out.
You can enable/disable these location data requirements via Mobile Settings. For more information, you can refer to the following article: In-Depth: Mobile Settings
Environmental Factors
It can be helpful to speak with employees/supervisors/managers that are familiar with a location when establishing your GeoFence to ensure that the GeoFence encompasses the workplace and reasonable space around it. Also, take into account the reported GPS location and the actual worksite location.
For example, the GPS location could be associated with an address that is on the street, but the actual worksite could be farther into the property. Or perhaps your employees are expected to leave their work vehicles at a designated location before going to the worksite. This can sometimes confuse employees when clocking in; does their day start when they get out of their truck or does it start when they step foot onto the worksite?
What ExakTime Mobile Users See
Depending on the permission enabled, ExakTime Mobile users will see the following: