When you reach the login page or Dashboard of ExakTime Connect, you will be able to see the current status at a glance. If there is any change to the status of ExakTime Connect the status will be updated as needed to a status such as degraded performance, operational, planned maintenance, etc.

---
Clicking the status on the login page or the View Status Details link on the Dashboard will take you to https://status.exaktime.com/ where you can be kept up to date with the status of your ExakTime Connect system. If any specific ExakTime Connect service has been impacted, it will be noted as such.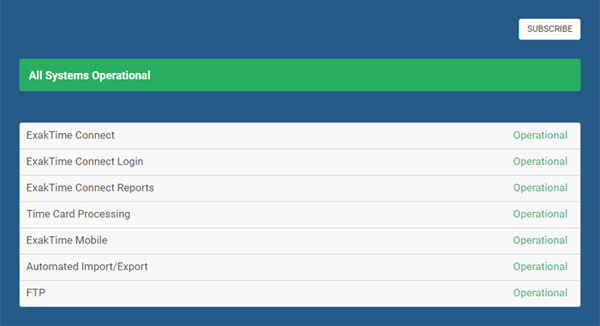 ---
The status page will also list the core components of ExakTime Connect. The core components are:
ExakTime Connect - General use and navigation of ExakTime Connect.
ExakTime Connect Login - Being able to login to your ExakTime Connect account.
ExakTime Connect Reports - The system that generates reports for you to review, print, and save.
Time Card Processing - The system that calculates the time cards, rounds time, automatically deducts lunches, splits time records when passing through midnight, and adjusting time records related to traveling.
ExakTime Mobile - Sending/receiving updates, clock in/outs, pulling information for TeamView, SiteHub, Time Cards on ExakTime Mobile, and Schedules.
Automated Import/Export - Our service that allows you to automatically import or export information to and from ExakTime Connect.
FTP - Short for "File Transfer Protocol" and is used for the component listed above.
---
The external services listed at the bottom of the status page are outside of the core ExakTime Connect system and are used to better support you.

Subscribing To Status Updates
If you would like to be kept up to date on the status of ExakTime Connect, you can use the "Subscribe" button to receive E-Mail or RSS alerts if the status of ExakTime Connect changes.