The 'Schedules' page allows you to review and create scheduled data exports based on an existing Data export. For more information about creating a data export, you can refer to the following dedicated article.
Navigating to Data Export Schedules
Expand Data, expand Exports, and click Schedules from the menu.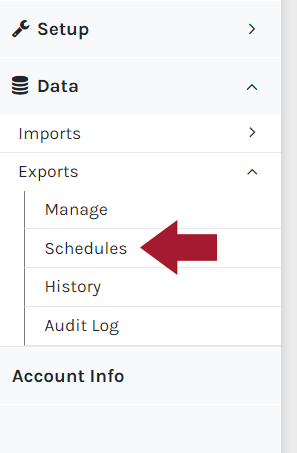 Understanding Schedules Page
The 'Schedules' page allows you to view any scheduled data exports for each of their exports, as well as create new schedules for exports that will be going into production. You can also see failed exports and the reasons why the exports failed in the Execution Notes column.
The top portion of the page will allow you to filter the scheduled exports list from 'All Exports' to a specific export with the 'Selected Export' stop down menu and schedule a new data export.

While viewing 'All Exports' or a selected export, the bottom of the page will list previous and the upcoming export.

There will be columns for:
- Click this icon to adjust a scheduled export.
Export - The name of the data export.
Export Date - The date of the export.
Status - The current status of an export.
Dependent Upon Export - The data export that must be successfully completed before the data export can be executed.
Execution Notes - This column will populate for any failed exports with the reason why it failed.
The Actions drop-down menu allows you to: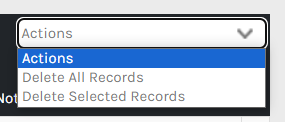 Delete Selected Records - Delete a previous or upcoming data export record.
Creating a Recurring Schedule

If a schedule was not already created when the export was built, the following steps can be followed to create a schedule:
Selected Export - Select the export from the dropdown menu.

Occurence - Enter the number days between exports or the day of the month the export should run. For example, you could set it to run every 7 days, or every month on the 15th day.

At - Select the time you'd like the export to run from the "At" dropdown arrow. The time choices are hourly from 12:00am to 11:00pm and are in MST (Mountain Standard Time).

Starting On - Enter a Start and End Date by manually entering the data or clicking on the calendar icon.

Scheduled Export Depedent On - (Optional) If the export is contingent upon another export finishing successfully, the 'Category' and 'Export Name' dropdown menus can be used to select the existing export that should complete before this current export executes. This is an optional feature that does not have to be used.

Click Create Recurring Schedule to create the schedule.
Deleting a Scheduled Export
Select the scheduled export records to be deleted with the checkboxes.

Use the Action dropdown menu and click Delete Selected Records.

Confirm the deletion.