The Applicant Tracking System (ATS) allows the administrator to create custom user roles to define permissions for what a user can access. For example, you could use the role "contact only" for someone in your office who you would like to have the ability to forward the candidate's information to get feedback, but they are only able to see that information with the email.
Navigating to User Roles
Click Administration from the top menu bar.

Click User Roles from the list on the left-hand side.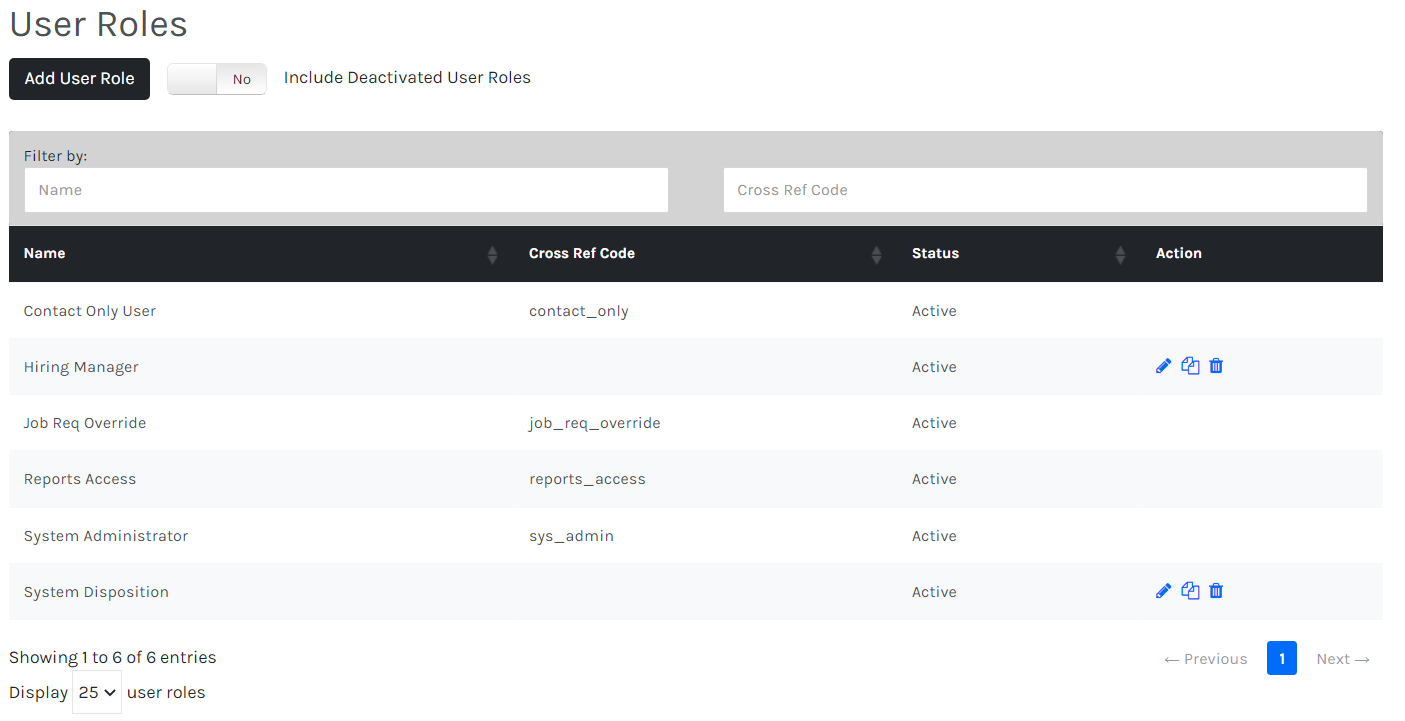 User Roles Menu
Add User Role button - Add a new user role to the ATS.
Include Deactivated User Roles toggle - Enable this toggle to show deactivated user roles in addition to active user roles.
Filter by - Filter the list of user roles by their name or cross ref code.
There will be columns for:
Name - The name of the user role.
Cross Ref Code - Used for the import template for bulk importing users and assigning the appropriate User Role.
Status - If the user role is Active/InActive
Action - Non-default User Roles offer actions to edit, copy, or delete a User Role.
Default User Roles
There are four default roles that cannot be edited, copied, or deactivated:
Contact User Only - The user can be sent applicants to review and provide feedback on, but cannot create jobs, access the software, etc. They will not receive a Username and Password to log into the ATS.
Job Req Override - If you have a job requisition process in place, any users with this role can override that process if need be.
Reports Access - This user will only have access to the reports section of the ATS. For example, this role is for an intern to have access to run weekly reports or for a director/department head who wants information on hired candidates.
System Administrator - This user will have access to all parts of the ATS.
Resources for Maintaining User Roles