Categories are a convenient way to group courses in the Course Catalog. Courses can be assigned to a specific category for easier navigation of the Course Catalog.
Navigating to Categories
From Talent Management, click Account Admin from the menu near the top-right.

Click LMS Setup to open the menu, then click Categories.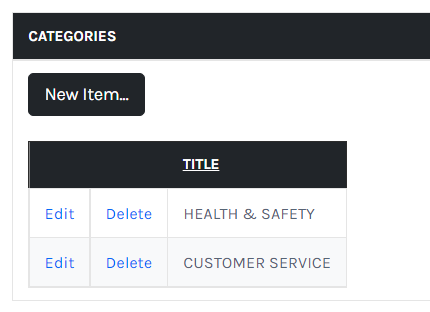 The Categories page will list the title of your course categories.
Adding a New Category
Click New Item....

Enter a title and description of the category.

Click Save.
Editing a Category
Click Edit towards the left of a category.

Edit the title and/or description.

Click Save.
Deleting a Category
When deleting a category, if it is assigned to a course, the category will not be removed from the category page.
Click Delete towards the left of a category.

A confirmation modal will appear. Click OK to confirm the deletion.