A hosted career page is a public-facing, branded page specific to your company. It is an add-on product that gains your company additional features in addition to the job feed widget. Candidates can search for jobs, add their resume to your candidate pool, or sign up for an email group based on your candidate labels to focus your email communication when posting new jobs.
Out of the box, a hosted career page leverages a mobile responsive design, meaning candidates can search for and apply for a job from their phone or tablet. Your company will receive a custom URL. Our intuitive online editor gives you the options and tools you need to create a flexible design that's always up to date with a list of your latest positions to create a great first impression and overall candidate experience.
For example, you can easily customize the page to include:
Company color scheme
Company messaging
Logo
Video
Page layout
Job feed layout
Menu or no menu
Add a custom footer
Add your Google Analytics for tracking
And much more!
On the Career Page, you can expand any of the available options by clicking the title bar such as for Header, Content, etc. If your career page does not appear like below, you may not have a Hosted Career Page. You can refer to the following article for more information.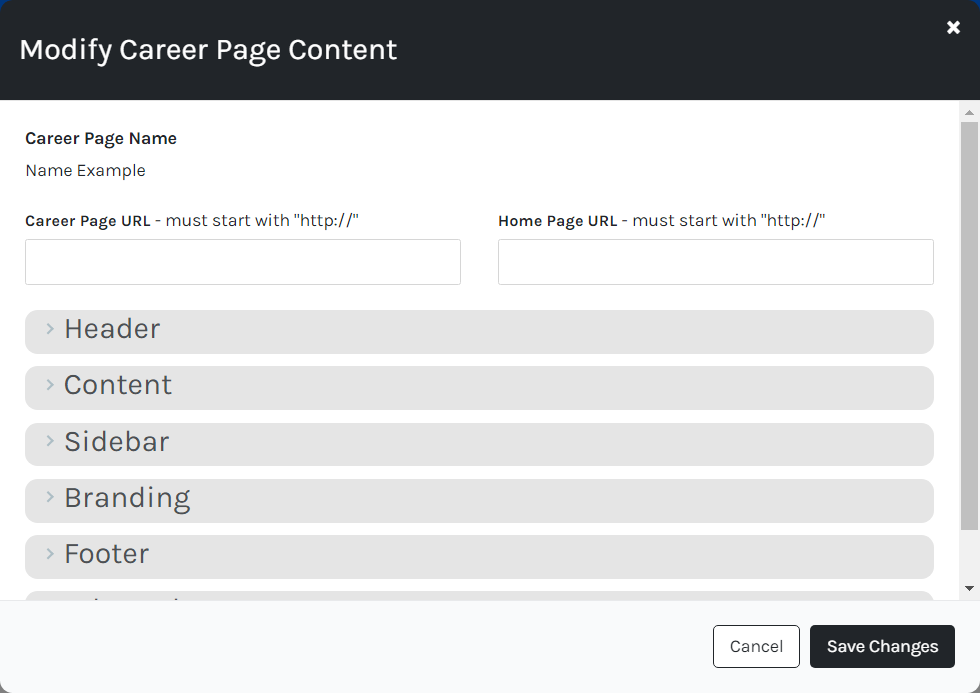 Navigating to your Career Page
Access the career page editor in your ATS by navigating to Administration. Click Career Pages on the left-hand side.

Click Edit by the Career Page Name under the Action column.

A modal like below will appear.
Career Page Content
For more information about modifying your career page, expand any of the options below.