The "Employee Document" tab allows you to easily upload and manage information about each employee.
Navigating to Employee Documents
From the menu, expand Employee, expand Employee, and click Documents.

If already viewing an employee profile, you can hover over "Employee" to show the available pages. Click Documents.

File Name - Clicking the file name of the document from this page allows you to download the associated document.
Visible to Employee on the Employee Portal.
Added By
Date Added
Note
From the Action drop-down menu, you can: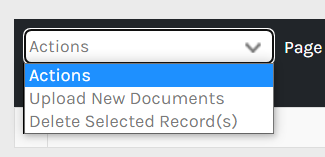 Uploading a Document
Use the Actions drop-down menu and click

.
Enter and provide the necessary information for the document.

Click Browse to upload a file.
Enter a note for the document.
Use the checkbox to allow employees to view the document from their employee portal. If enabled, the note entered for the document will also be displayed to the employee.

Click
when finished.
Delete a Document
Check the box to the far right of the document(s).

From the Actions drop-down menu, click

.
Confirm the deletion of the record(s).