The Consolidated Tax screen provides the ability to manage all Taxes (Federal, State, and Local) from a single screen within the application.  However, before this screen can be utilized, Tax Codes must be configured within the Payroll module.
 For EZPay Only
The Consolidated Tax Form is only available for EZPay users.
For more information on configuring Tax Codes see:  Configuring Payroll Tax Codes
For the employer filter to work, the mapping must first be configured under payroll: Account Mapping
Navigating to Consolidated Tax for an Employee
Expand Employee, expand Payroll, and click Taxes from the menu.

If already viewing an employee profile, you can hover over "Payroll" to show the available pages and click Taxes.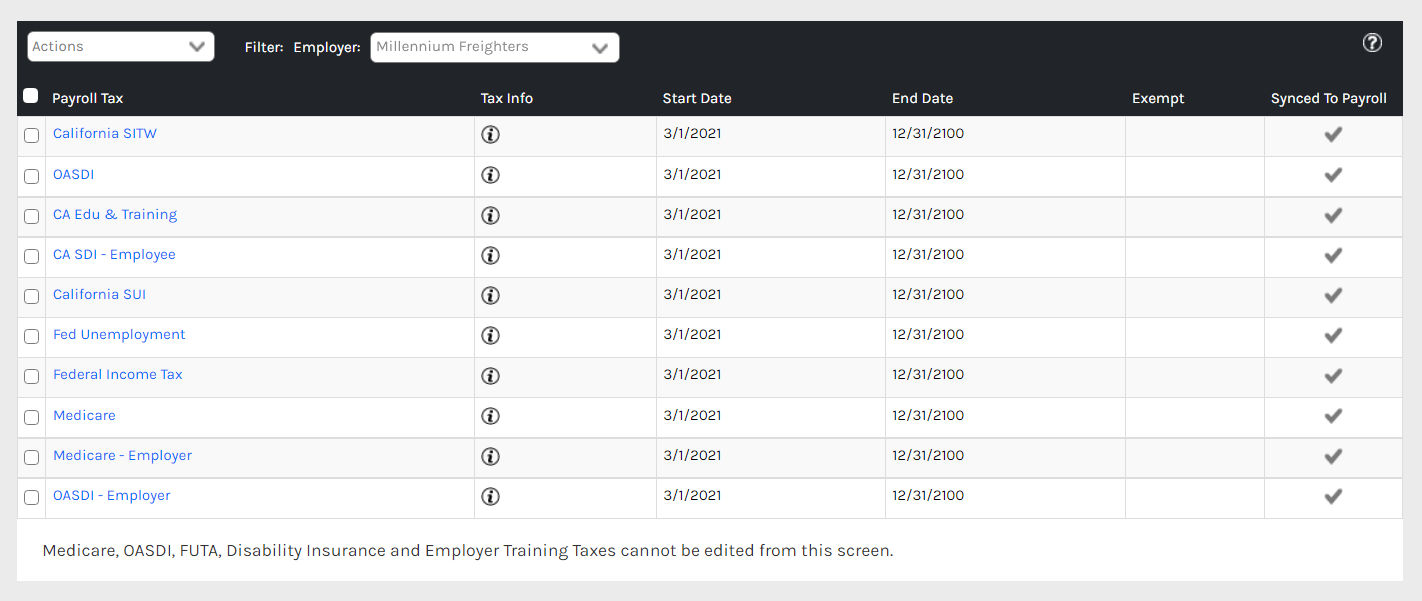 The Consolidated Taxes page will have columns for:
Payroll Tax
Tax Info
Start Date
End Date
Exempt
Synced To Payroll
From the Actions drop-down menu, you can: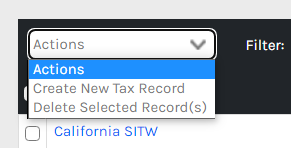 Creating a New Tax Record
Click Create New Tax Record from the Actions drop-down menu.

Enter the necessary information for the tax record. Any required fields will be highlighted in RED. The available fields will depend on the Payroll tax selected.

Click Save when finished.
Editing a Tax Record
Click the name of the tax record.

Edit the tax record as needed. Some fields, such as the Payroll Tax, cannot be edited. Click Save when finished.
Deleting a Tax Record
When deleting a tax record, there will be no confirmation to delete the tax record(s).
Use the checkbox towards the far left of the tax record(s).

Click Delete Selected Record(s) from the Actions drop-down menu.