Education History will include the education history entries for the selected employee. If the employee was hired through the Applicant Tracking Portal of Core HR, the education history they entered during the application process will carry over into their employee education history.
Information can be added by the employee at any time if they have been granted access to the Education History link from the menu by going to Setup > Setup Properties > Employee Portal > Quick Links and enabling the option for Education History. Employees can refer to the following article for assistance with adding their own education history from their employee portal.
If the employees have not been granted access to the Education History Quick Link the information will need to be entered by an administrator.
Navigating to Education History from the Employee Profile
Education History can be reached from the menu by expanding Employee, expanding Recruiting, and clicking Education History. If you are already viewing the employee profile, you will hover over Recruiting and click Education History.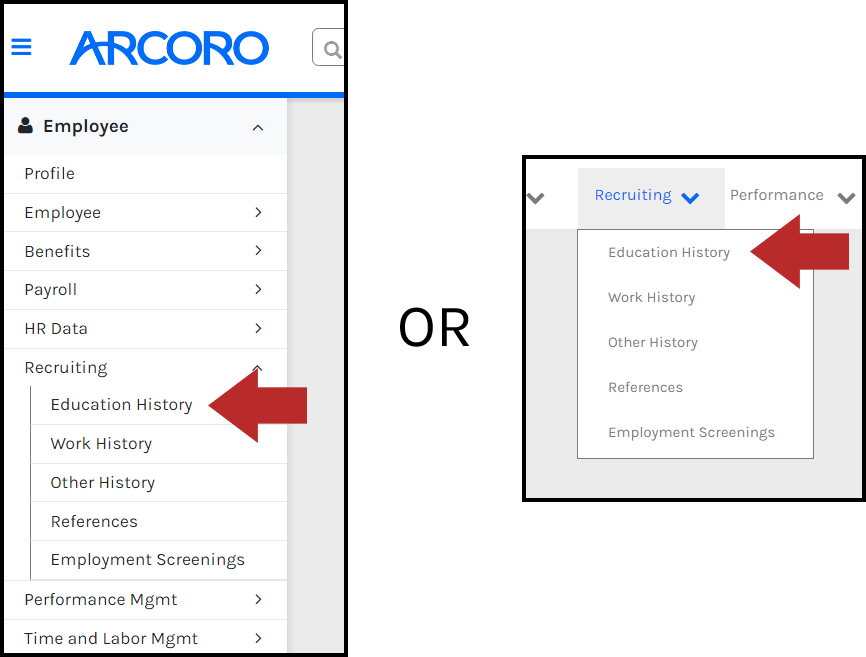 The page will have columns for the:
Level
School/Certificate
Degree/Other
The Actions drop-down menu allows you to: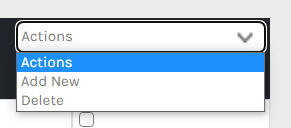 Adding Education History
Click

from the Actions drop-down menu.
Enter the relevant education history for the employee.

Education Level

High School or equivalent
Certification
Vocational
Associate Degree
Bachelor's Degree
Master's Degree
Doctorate
Professional
Other

School/Certification Description
Degree/Other Description

Click
 when finished.
Editing Education History
Click the name of the education history record.

Edit the information of the education history record.

Click Save when finished.
Deleting an Education History Record
Use the checkbox towards the right of an education history record.

Click Delete from the Actions drop-down menu.

Confirm the deletion.