Core HR routinely completes data checks on each employee record for Administrators to review. Based on the data check, an alert may be posted to the "Alerts" tile and page of the Core HR Homepage. Administrators can review alerts daily and take appropriate action to resolve any issues.
Table of Contents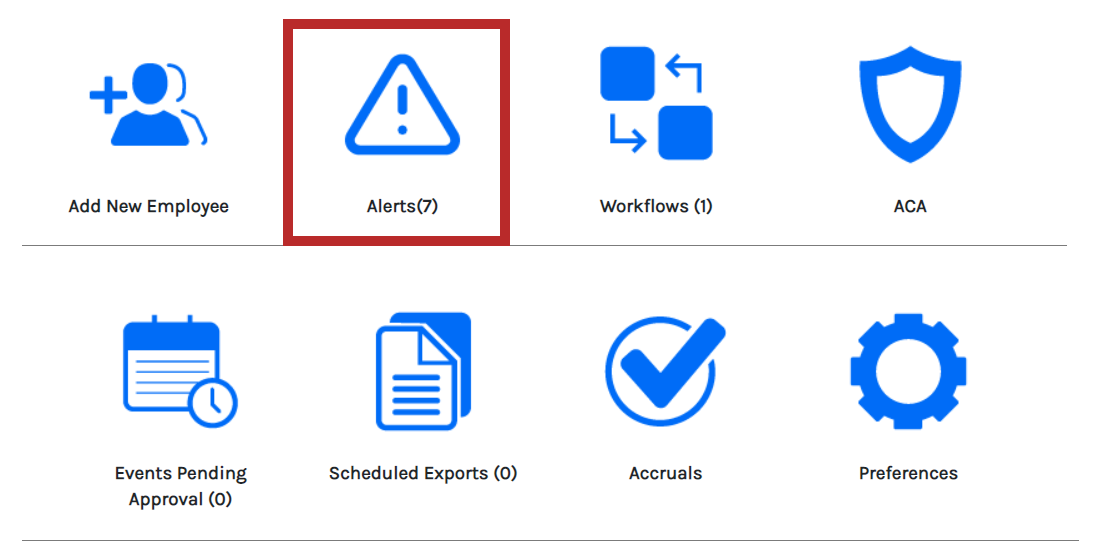 Understanding Alerts

The "Alerts" page contains two tabs:
Alerts - A list of alerts that should be addressed by an Administrator.
Automated Alerts Activity - A depreciated feature that can be ignored.
Last Processed
Alerts resolved for any given day will not be cleared until the alert cycle, which may vary. The "Last Processed" field should be referenced for any alerts that were processed for the current day.

Alert Description
A short description for alerts will be noted in the left column. For more information about the alerts and their descriptions, you can refer to the following dedicated article.

Record Count
A "Record Count" link is available next to each alert providing a number detailed view of which employees were affected by the alert. Alerts can be resolved by following the Employee link available on the detail view and taking the appropriate action against the employee record.


Webinar on Common Alerts
Check out our 9@9 webinar recording that provides some tips and info on processing common alerts
You can also view other 9@9 webinar recordings and sign up for future webinars here.