Arcoro is excited to announce the 9/16/2021 release for our customers and partners. This release provides new features and enhancements to existing functionality for Arcoro Core HR. This article and attached PDF will describe the software updates and provide details to help you get started with these enhancements.
Enhancements
Core HR Cost Centers
Some customers received this enhancement on 6/17/2021, but all Core HR customers will now see the new look for Cost Centers on 11/9/2021. The release includes enhancements to the Cost Center User Interface (UI) within the Core HR module for easy review and maintenance of cost centers. The following updates have been made to the UI:
Cost Center Structure
Updated User Interface (UI) with increased responsiveness
The Structure tab has been renamed to Cost Center
New navigation when adding, editing, or deleting cost centers
Search for Cost Centers by Name or Description
Display up to 50 cost centers per page
Show the number of employees assigned to each cost center
As a Core HR Admin user, to review these enhancements, navigate to Setup > Setup Properties > Field Value Setup > Cost Centers.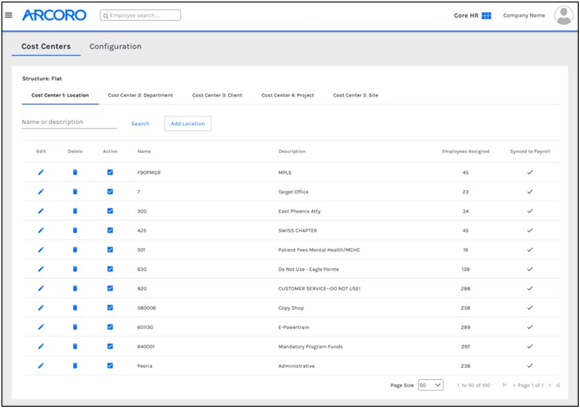 Configuration
Core HR Admin users will also find enhancements to the user interface when configuring cost centers. To review these enhancements, navigate to Setup > Setup Properties > Field Value Setup > Cost Centers > Configuration.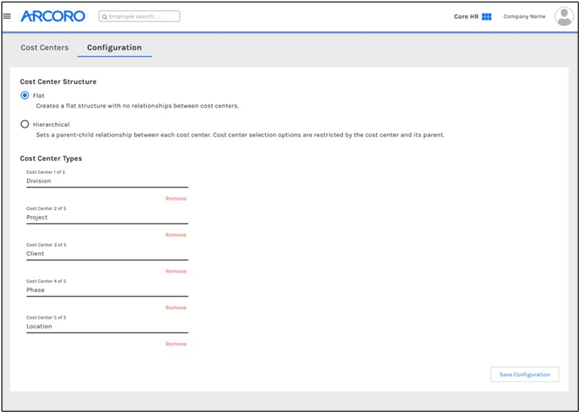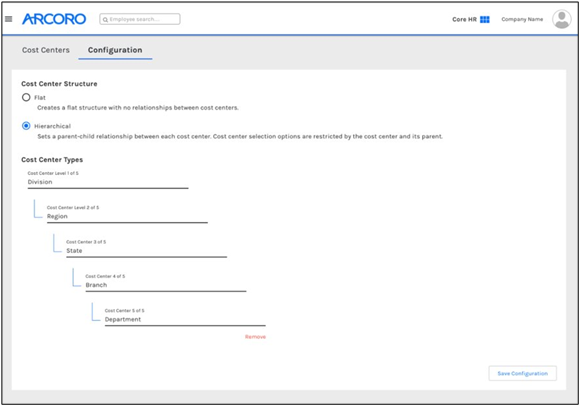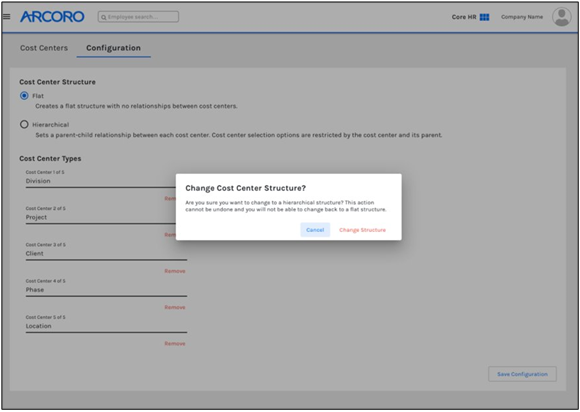 In addition, a new popup notification for users has been created to confirm changes to the cost center configuration from flat to hierarchical or vice versa.
For more information on Cost Centers, refer to the Cost Center article.
Scheduled Exports
The scheduled exports function in Core HR has been redesigned to improve the performance. As a result, the time needed to complete an export using this new technology can now be measured in minutes rather than hours. Our tests show that a scheduled export that averaged up to 7 hours to complete from the scheduled start time, will now only take on average 3 minutes using the new process.
No action is required to take advantage of the improved exports. The delivery will be rolled out in phases and expected to be completed by the end of August.
Progress Alerts for Manual Exports
With this new performance, we are also introducing new functionality for Manual Exports.
Admin users of Core HR will notice a 'notification bell'

in the top right-hand corner of their Core HR screen while logged in and processing exports. Clicking on the bell icon will open the list of notifications showing the progress of their manual export(s). When a new notification is available, the bell icon will contain a blue dot. Users can navigate the site while manual exports are being processed.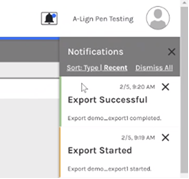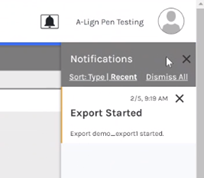 After reviewing the notification, the blue dot will disappear until a new alert is received. The current functionality of email notifications when a manual or scheduled export has been completed (Success or Failure) will continue to be sent. After an export has been completed, it will also be added to the export history. Users will need to refresh the export history page to see the updates.