Understanding your Time Clock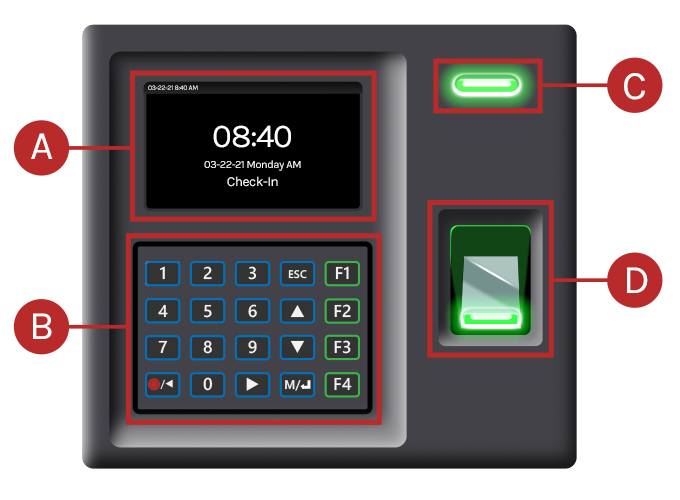 Display
Keypad/Function Pad

M - Manager Key. Used to confirm selections.
F1-F4 - Function Keys. Used to switch between the Clock-In and Clock-Out functions once your Time Clock has been set up. (Break-In and Break-Out can be functions is enabled.)
Arrow Keys - Used to navigate the menu of the Time Clock.
ESC - Escape the current menu.

Indicator Light
Fingerprint Scanner
A default user is pre-loaded onto your Time Clock.
Accessing the Admin Menu
When you first turn on your Time Clock, you will see a screen similar to below that will be used by your employees to clock in/out.

To access the admin menu, press M button on the keypad. You will see a lock icon and a "Please verify" message.

Press 1 on the keypad for your User ID and press M.

When prompted for the password, press 998899 and press M.

You should see the Main Menu that looks similar to below.

If you do not interact with the device within a pre-determined time, the Time Clock will exit the main menu and return to the initial Clock In screen shown in the first step.

You can also extend the Menu Screen Timeout by going to: Personalize > User Interface > Menu Screen Timeout(s) > Select the desired time in seconds.