When clocking in on ExakTime Mobile, you may see the below message if ExakTime Mobile does not have any active locations to display:
No locations available. Contact your office for assistance.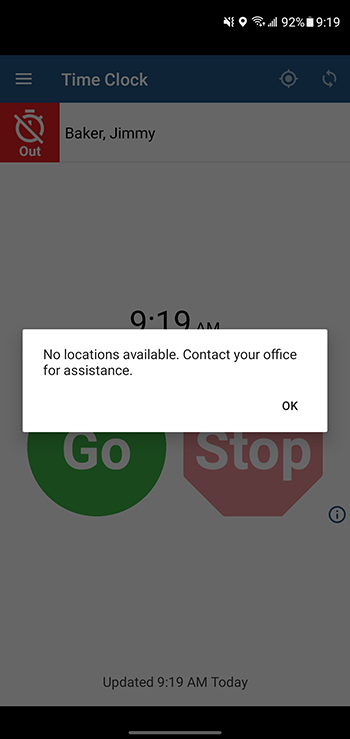 If you are unsure why this message is being displayed, refer to any of the following steps below to confirm the cause.
Confirm Active Locations
Go to Manage and click Locations.

Review your list of active Locations.

If you recently set up your ExakTime Connect system, you need to add active locations for you and your employees to use. For steps on doing this, you can refer to How to Add a Location (Jobsite) in ExakTime Connect.
Sync ExakTime Mobile
If you have active locations in your ExakTime Connect system, but your employees are still having trouble, make sure that their copies of ExakTime Mobile have recently synced with ExakTime Connect. As ExakTime Mobile uses data stored with the latest sync, if you added locations after they initially set up ExakTime Mobile or after they sync ExakTime Mobile, it may not have the active locations yet.
Syncing is done in ExakTime Mobile by either:
Pressing the sync icon in the top right of ExakTime Mobile.
Press Sync from the menu.