The Workflows Steps tab allows you to review the steps of the workflow of a workflow instance, specify the resource(s) for a step, and/or complete a step.
Navigating to Workflow Instance Details for an Employee Profile
Expand Employees, expand HR Data, and click Workflows from the menu. If you are already viewing an employee profile, you can hover over HR Data and click Workflows.

Click the name of the Workflow Instance.

The 'Workflow Steps' tab has columns for:
Step - Name of the step.
Instructions - Instructions for the step.
Resource
Start/End Date
Target Duration
Actual Duration
The Actions drop-down menu allows you to: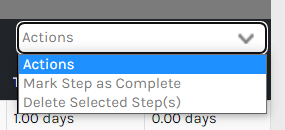 Mark Step as Complete
Delete Selected Step(s)
Marking Step(s) as Complete or Deleting a Step
Use the checkbox towards the left of a step. If there is a blue checkmark, the step has already been completed.

Click Mark Step as Complete or Delete Selected Step(s) from the Actions drop-down menu.