When working with a Candidate there are several action icons that you can use to perform actions on the candidate. Some Actions icons will only be available when a candidate has a certain stage/disposition. 
Navigating to a Job Profile
While logged in to the Applicant Tracking System, click Jobs from the top menu.

While viewing the table for your jobs, click the job title link under the "Job Title" column.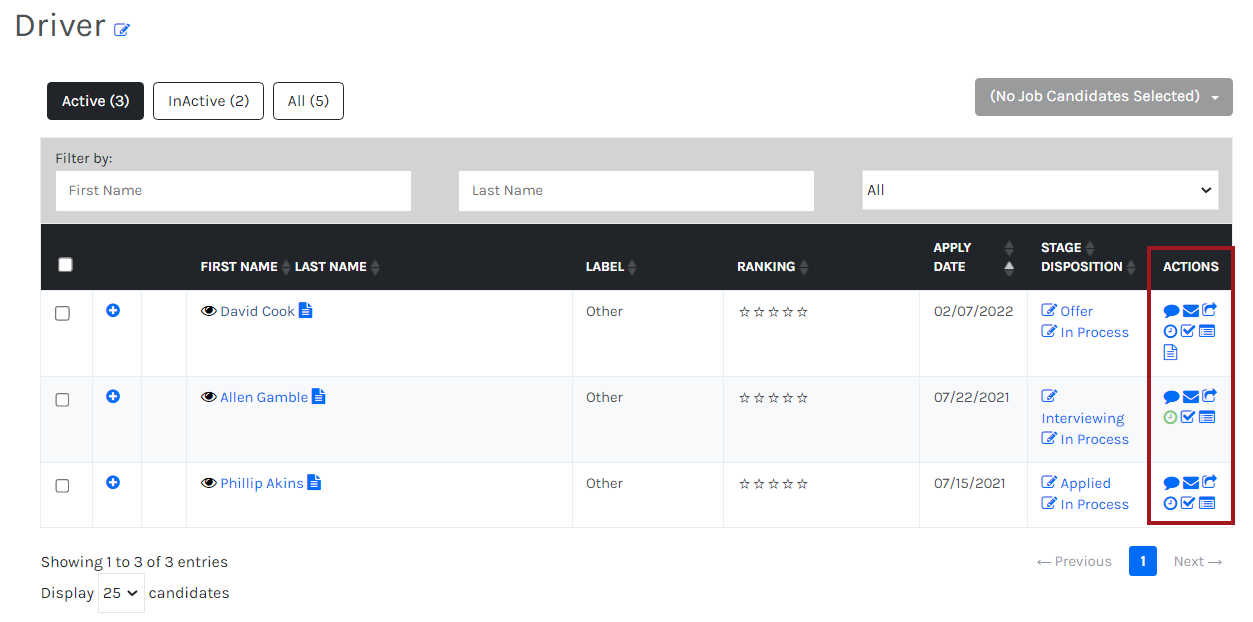 | Icon | Action |
| --- | --- |
| | Add a comment to the candidate's profile. Comments will appear under the activity history bubble. |
| | Send an email to the candidate. A pop-up will appear and an email can be created from scratch or a template can be pulled in. A copy of the sent email is stored in the Activity History bubble. |
| | Forward the candidate's information to another employee. A pop-up will appear and an email can be created from scratch or a template can be pulled in. A copy of the sent email is stored in the Activity History bubble. |
| | Forward the candidate's information. This icon is in the Candidate Pool. A pop-up will appear and an email can be created from scratch or a template can be pulled in. A copy of the sent email is stored in the Activity History bubble. |
| | Schedule an Interview. Phone screen, face-to-face, and virtual meeting can all be scheduled. The interview wizard can also be integrated with Outlook. The Interview will be tracked in the interview tab. For more information about using the scheduling assistance, refer to: How to Use the Scheduling Assistant  |
| | Order Background Check. Connects to background check integration partner. Results will display in the Background Check bubble. For more information about ordering a background check, you can refer to: How to Order a Background Check in the ATS  |
| | Order Drug Screen. Connects to drug screen integration partner. Results will display in the Drug Screen bubble. For more information about ordering a background check, you can refer to: How to Order a Drug Screening in the ATS  |
| | Attach Candidate to Job. This icon is in the Candidate Pool. A pop-up will appear and jobs can be searched by zip code, job title, or job ID. Select the job and attach the candidate. |
| | Manage Applicant Post-Hire Process. This icon pushes hired candidates to the Onboarding module. Onboarding Job Title, Location, Manager, Pay Rate Type, Pay Amount, Employee Type, and User Name can be selected. For more information about the post-hire process to Onboarding, you can refer to: How to Move a Hired Candidate From the Applicant Tracking System to Onboarding |
| | Manage Applicant Offer Letters. This icon redirects users to the Offer Letter List page, where offer letters can be created and managed. This icon is permission-based and is available to system administrators and other users who have the 'Generate Offer Letter' permission. For more information about offer letters, you can refer to: How to Create an Offer Letter |
| | Manage Applicant Start Date. When a candidate has been set to a 'Hired' disposition, users will have the option to identify and/or change an applicant's start date. |