The HRIS will integrate with Colonials Plane.Biz Version 1.5. The employee will begin an enrollment event and elect their Voluntary Benefits by clicking a link in their event that takes them to Colonials Plan.Biz system. This enables direct enrollment in the carrier's system.
Upon completion of enrollment, the enrollee will log out of the Plane.Biz System and seamlessly continue their enrollment event in the HRIS.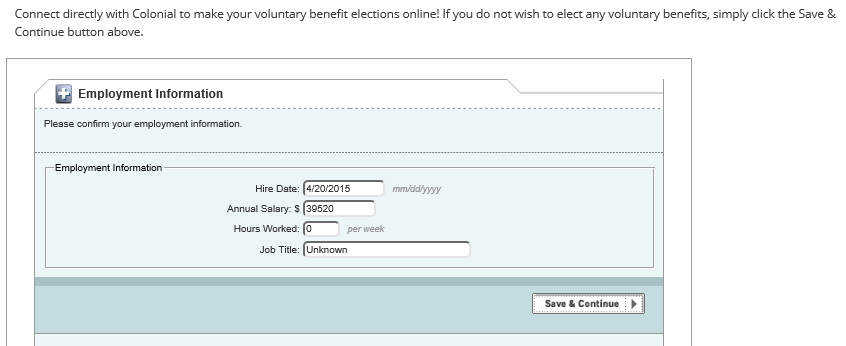 To Configure the Colonial benefit please follow the below steps:
Step 1
Navigate to Settings > Benefit Management
Select the current package or create a new one.
Click the Setup Voluntary Benefits tab.
Click the Colonial Voluntary Benefits tab.

Step 2
The Enrollment Type and Enrollment Period are hard coded and cannot be adjusted. You will need to enter in the Account Key that is provided to you by Colonial and hit Save Configuration
Colonial will refresh the site on a monthly basis. At this time your Colonial representative will will reach out to you to have you submit the Census. At that time you will need to come to the configuration page and hit the Button to Submit Census:

Once this has been loaded on Colonials Side they will let you know and you will come back to the configuration screen and click to Load Current Elections to Colonial Import History:

This will load the file back into the infinity system for you to review: