If you have Manual Meal Breaks enabled, you will have the option on Time Card Details to add a meal break for an employee's work day if they forgot to track it themselves.
If you would like more information about setting up Manual Meal Breaks, you can refer to the following dedicated article.
Navigating to Time Card Details
Click Time Cards and click Time Card Details from the menu bar.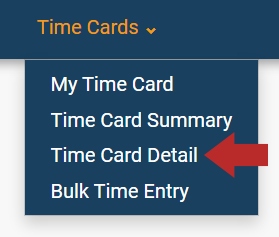 Employee Forgot to Track Their Meal Break
The employee should have a red exclamation point to indicate that they have a time issue, such as missing a meal break. Look for the "Missing Meal Break" indicator for the day an employee did not track their meal break.

Click Add Meal Break and enter when the meal break should start. The "Meal Break" cost code will be entered automatically. Then add a new time record for when the employee should start working again after their meal break.

After saving, your meal break and the time record for when they come back from their meal break should be added to the time card.
Entering a Meal Break to Blank Time Card
When adding a meal break for a blank time card with other time records, you will need to make sure the start times of both the meal break and the time record after the meal break take into account the meal break duration.