The ATS comes with 20+ standard reports. These reports cover compliance reports such as AAP, Applicant Flow Log, and VEVRAA Section 503. Other metrics such as time to hire, source analytics, and interview data are also included.
Navigating to ATS Reports
Click Reports from the menu bar of the ATS.
Generating a Report
Click the Generate Report link for the desired report. A new tab/window should open for the report.

If available, select the date range that the report should filter for and click Generate Report.

Depending on the report, you are able to use the provided buttons to customize the report to your needs. For a brief summary of the options, check out the following section.

Depending on the report, you are able to:

Click the column header title to sort the data. An arrow will appear to indicate if the column is ascending or descending.
Click and drag to order the columns.
Click and drag to expand/contract a column.

Depending on the report, there may be options to export the report in an Excel, CSV, and/or PDF option. These options can be found towards the top-right of a report.
Customization Options for Reports
A majority of reports allow customization options such as hiding columns, inserting formulas, adding charts, and more.
Columns
Select/deselect the columns that should be seen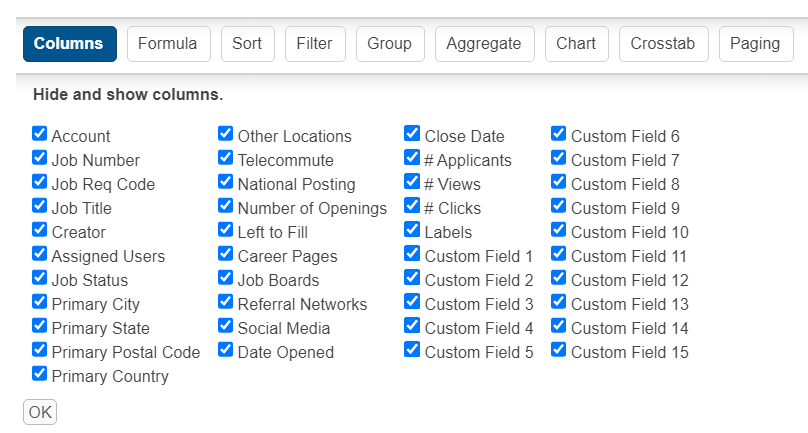 Formula
Insert a formula into the report. Use the "Formula Help" button to see what formulas you can use.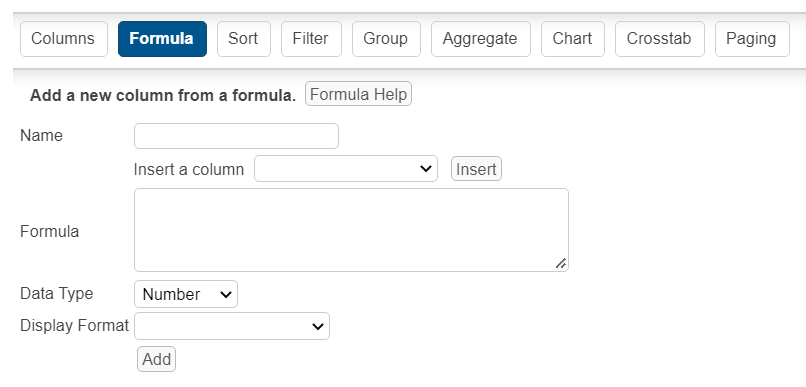 Sort
Sort the data for a column in an ascending or descending order.

Filter
Filter the data for a specified column.

Group
Group up rows based on the data from a column.

Aggregate
Aggregate the data from a column.

Chart
Add a chart/gauge based on the data from a column.

Crosstab
Use the Crosstab option to show the relationship between two different columns.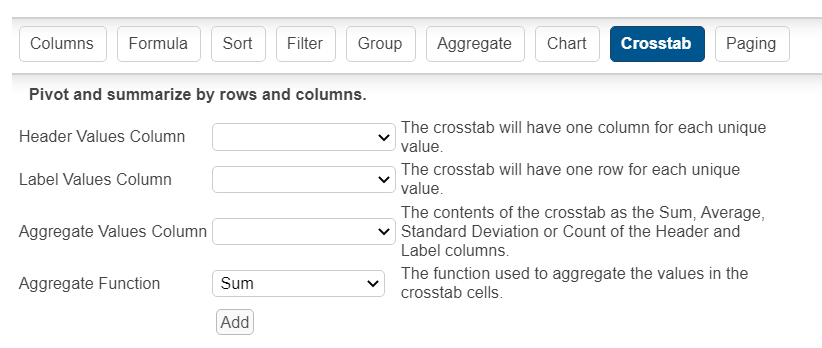 Paging
Specify how many rows are allowed on a single page.