Training and Achievement allow HRIS Administrator to assign one or more training items to an employee.
Training and Achievement can be reached from the menu by expanding Employee, expanding Performance Mgmt, and clicking Training and Achievement.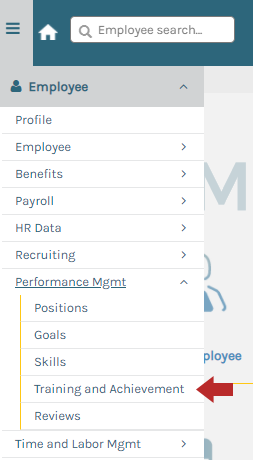 If you are already viewing the employee profile, you will hover over Performance and click Training and Achievement.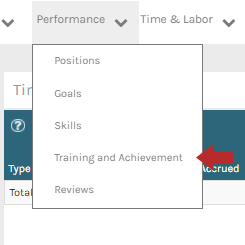 The "Training and Achievement" page will show currently entered skills and their rating.

The Actions drop-down menu allows you to:
Create Training Record
Delete Selected Record(s)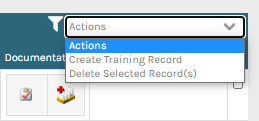 Creating a Training Record
From the Actions drop-down menu, click Create

Select the training item and fill in any other relevant information such as when the training was achieved, if/when the training expires and will need to be re-done, etc.

Training Item - Select Training Item from the list of configured training items

To learn more about configuring a training item Click Here

Issued/Achieved Date - the date the training item or certificate was completed
Expiration Date - date the training item or achievement expires

Commonly used for items such as a forklift license, renewable training, etc.

State - enter the state the training or certificate is valid or was completed
License Number - if applicable
Other Data - text box if applicable
Notes - administrator can add any pertinent notes regarding the training or achievement to this field
Allow item to expire - if a workflow is configured to the training and achievement item, the system will track the approaching expiration date and kick off the workflow as needed.

This functionality can notify a manager, employee, or administrator if action needs to be taken before the expiration of a logged item.

Documentation required - use to indicate that documentation is required and is outstanding
Add Record

Click
when finished.