Reviews allow HRIS Administrator to create review records for an employees. This is in lieu of the automated scheduling Frequency that is associated with each Review Form.
Reviews can be reached from the menu by expanding Employee, expanding Performance Mgmt, and clicking Reviews.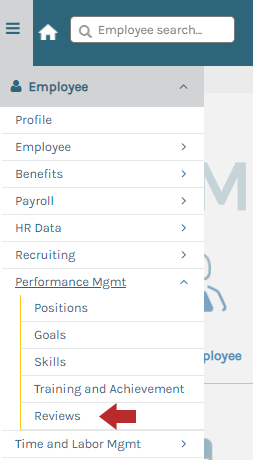 If you are already viewing the employee profile, you will hover over Performance and click Reviews.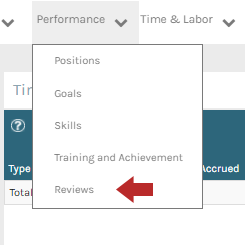 The "Reviews" page will show currently entered review records.

The Actions drop-down menu allows you to:
Add Review
Delete Selected Reviews

Adding a Review Record
From the Actions drop-down menu, click

.
Enter the appropriate information for the review record:

From the Review drop-down menu, select the employee or performance manager that will complete the review form.
From the Review Form drop-down menu, select the appropriate Review Form.
(Optional) From the Workflow drop-down menu, select the workflow to attach to the review record.
Leave the Date Completed/Date Signed and Override Score fields blank as the Completed and Signed fields will populate once the Reviewer completes the Review Form.
The Override Score is used when Administrators wish to enter a score that differs from the weighted Review Form source.

Click
when finished.