In the recent versions of ExakTime Mobile, ExakTime Mobile is designed to prevent employees from clocking out if ExakTime Mobile does not detect that the employee is not currently clocked in by lightening the color of the STOP button and making it unresponsive. This is to help prevent employees from accidentally clocking out in the morning when they should be clocking in. An example of this is shown below: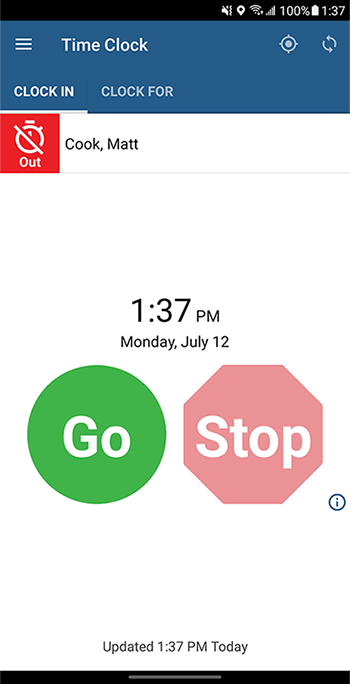 How to Force a Clock Out
Click the icon towards the bottom-right of the STOP button.

A modal will indicate that ExakTime Mobile believes that the user is currently clocked out, but they can clock in any way. Click Clock out to force a clock out.
Why the Stop Button Is Unresponsive
ExakTime Mobile determines if the STOP button should be responsive by looking at your ExakTime Connect account and checking the employee's time card. If there is a clock in without a clock out, the STOP button is usable. If the employee's lastest time record is not a clock in, it lightens the color of the STOP button and makes the STOP button unresponsive.
If the employee is using the same device throughout the day, this may not be an issue as their device already has the information that the employee has clocked in. If the mobile device(s) lack consistent internet access to determine the last known time record of the employee and the employees jump between multiples devices throughout the day, the employee can press a small i icon next to the STOP button to force a clock out.
Requires ExakTime Mobile 2.60+
If the

icon is not available, you will want to update ExakTime Mobile to version 2.60 at least.