For more information about the availability of this feature, contact your Account Manager.
The Alerts and Notifications Dashboard of ExakTime Connect allows you to review the number of notifications sent by ExakTime for certain features and when the notifications were sent. The features that currently utilize these alerts and notifications are:
Time Off
Custom Alerts & Notifications
If you reach your alert/notifications cap and need to send additional alerts/notifications, please contact your account manager for more information on increasing your cap. 
Navigating to Alerts and Notifications Dashboard
Go to Tools and click Alerts and Notifications Dashboard.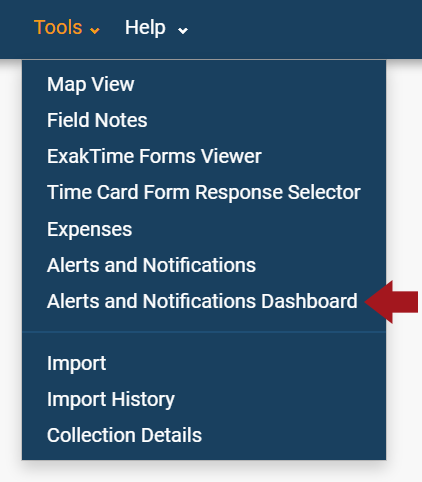 Notification Metrics
Notification Metrics will show the number of notifications used against the total allotment for the month.
The features that have generated alerts/notifications will be listed.
The notification metrics will reset at 12:00 AM UTC on the first of every month.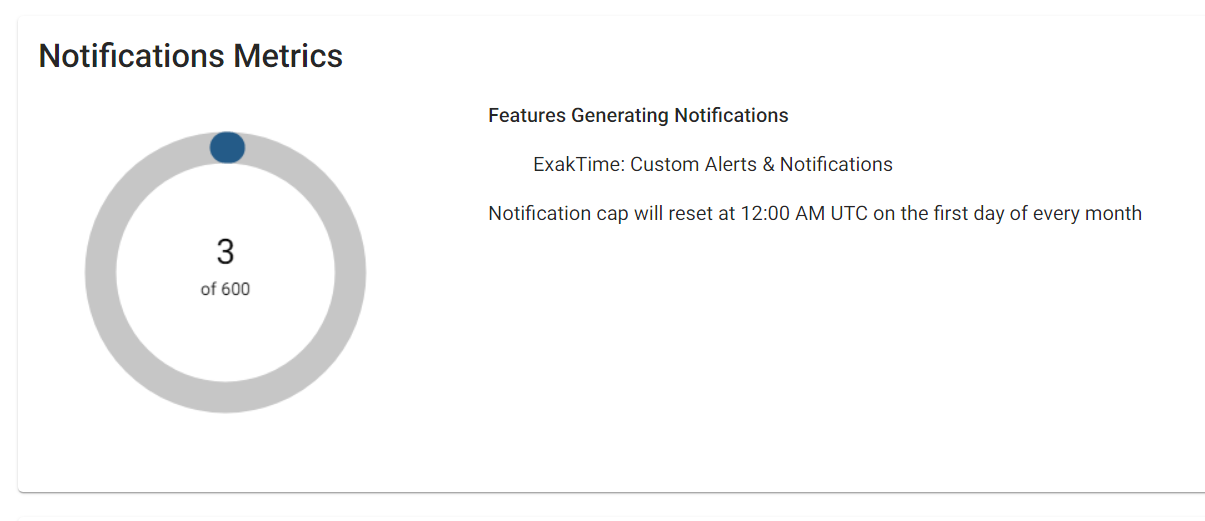 Notification Log

The notification log will list all notifications sent through Alerts & Notifications with a series of filter options.
Month - Use the month filter to focus on notifications sent for the specified month.
Search - Search for the recipient or subject of a notification.
Channels - Specify which channel to filter the notification log (All, SMS, Email, or Push).
Status - Specify which status to filter the notification log (All, Send, Archived, Pending, or Failed).
Export - Save a CSV copy of the notification log. 
There will be columns for:
Recipient - The employee that received the notification.
Sent On - When the notification was sent.
Module - The module that the notification was sent for.
Feature - The feature that the notification was sent for.
Channel - The method that the notification was sent by.
Status - The status of the notification.
Subject - The subject of the notification.