When creating a new survey or editing an existing one, the Properties tab allows you to set up the basic information/settings for the survey. After setting up your properties, remember to save your changes.
Navigating to the Properties Tab for Surveys
From the menu, expand Settings and click Surveys.

Click the name of the survey if editing. Otherwise, use the Action drop-down menu and click Create Survey.

The Properties tab will be the initial tab shown.
Checkbox Options

Activate this Survey for the Configured Respondents – Activates the survey for distribution via the Release Tab, Workflows, or Applicant Tracking jobs (Job Posting Contacts).
Results gathered in this survey will be anonymous – Answers provided by the employee groups will not identify the employees to the answers they provided.
This Survey should be graded (Correct answers must be identified for each question) - Provides the ability to add questions that are correct or incorrect. Only "Radio List" and "Dropdown List" reply types are supported for graded Surveys.
Display incorrectly answered questions along with correct answers to respondents at the end of the survey – The survey will display the correctly and incorrectly answered questions after the respondent has completed the survey.
Text Fields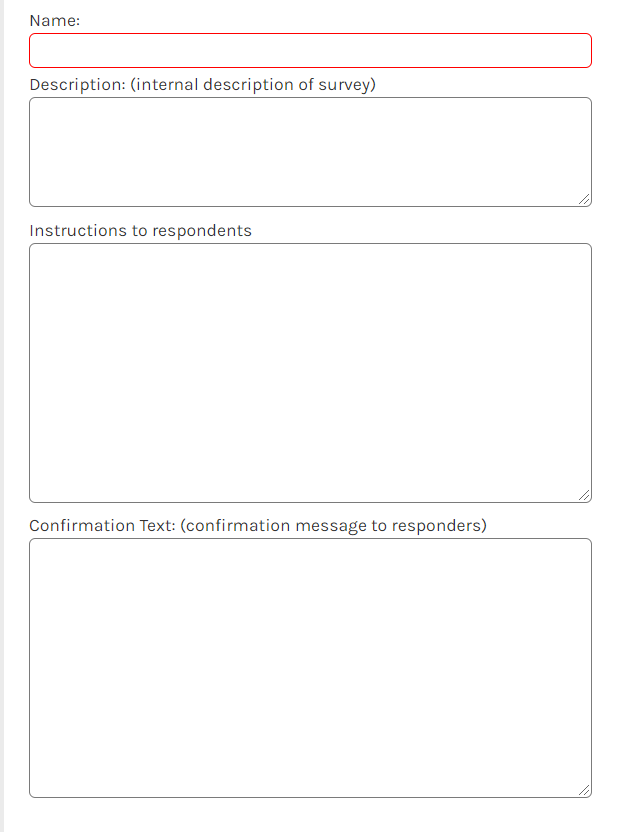 Name for your survey
Description of the survey. This description will only be available for Administrators to view 
Instructions to respondents - Employees will be able to view the text added to this box, and any special instructions or descriptions can be added here 
Confirmation text