Your dashboard allows you to add pre-made widgets and see information at a glance.
Navigating to Dashboard
If not already there, click Dashboard from the top menu bar.

The Dashboard will show you any widgets previously added and the option to add a widget.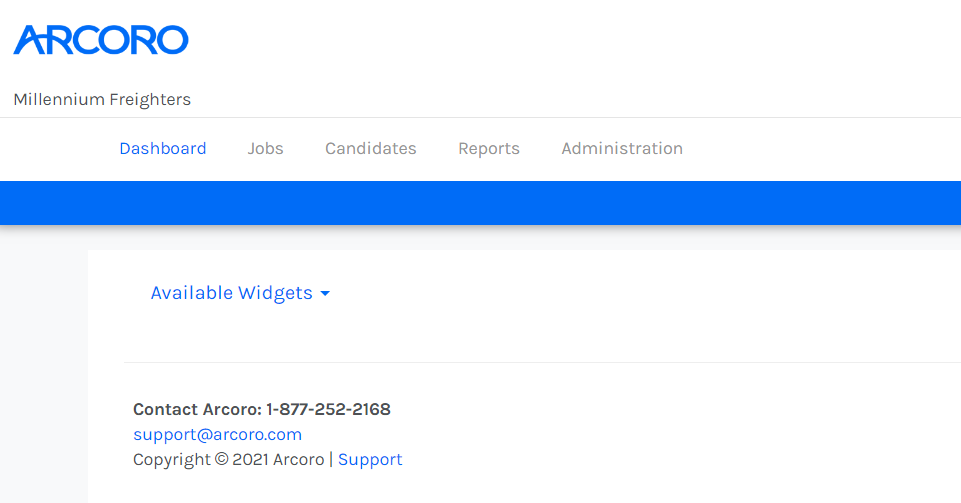 Adding Widgets
In the upper-left corner, click Available Widgets.

Select the widget you would like to add. If you have already added a widget, it will not be in this list.

The widget will be created on your dashboard.

If you have multiple widgets, you can drag and drop widgets to the desired location on your Dashboard by clicking the title of the widget.
Widgets
Active Jobs

Displays the number of active jobs

Candidate Stages

Shows candidates in open and closed jobs

Days Open by Job

Number of days jobs have been open

Jobs By Status

Percentage of jobs that are Open, On Hold or Closed

New Applicants

Number of recent applicants by job

Newest Candidates

Latest candidates, including city and state

Overview Snapshot

Select a date range to see the number of jobs created, closed, clicks to apply and candidates added or hired

Time To Hire

The number of days a job was posted from when a candidate was hired

Upcoming Job Expiration

Number of days until jobs are set to expire