ExakTime Mobile is a companion mobile application for ExakTime Connect that allows field employees to track their time, review their time cards, and more. Setting up ExakTime Mobile is quick and should generally not take more than a few minutes.
If you are an administrator, we have also created some printable resources for your employees here.
Table of Contents
Requirements for Setup
To install ExakTime Mobile on an Android or iOS device, you will need a compatible device and the company setup code.
Device Compatibility
For Android - ExakTime Mobile is supported on the latest official Android version and up to two previous official versions.
For iOS - ExakTime Mobile is supported on the latest official iOS version and up to one previous official version.
For the best experience, we recommend that the device have a dedicated cellular data plan, WiFi, GPS, and Bluetooth capability.
Install ExakTime Mobile
Search for and install "ExakTime Mobile" for free from the App Store (if using iOS) or the Play Store (if on Android) like you would install any app.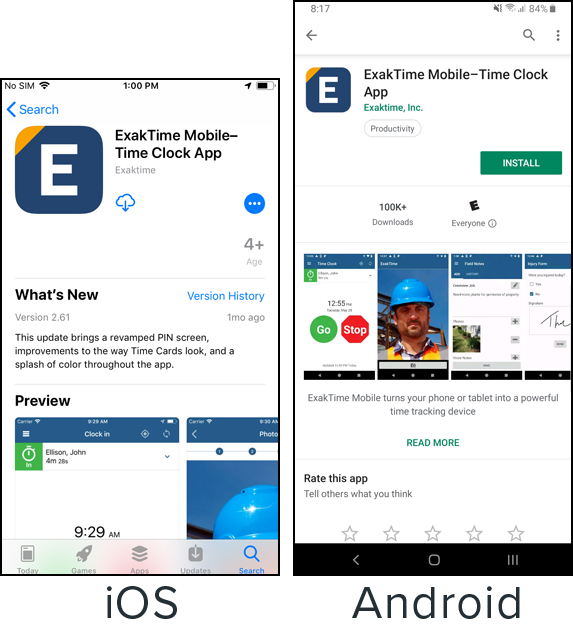 Get the Company Setup Code
The company setup code is used to connect setup any copy of ExakTime Mobile with your company's ExakTime Connect account. 
You will need the 12-digit/character Company Setup Code which will be provided by an ExakTime administrator to set up ExakTime Mobile. This code will expire, so it is best to set up ExakTime Mobile as soon as possible.

If you have access to ExakTime Connect, you can get the signup code yourself with any of the methods below:

When you first sign in on your Dashboard, the company setup code will be shown like the example below:

Go to Manage and click Mobile Devices from the menu, you will be brought to a page where you can see the company setup code highlighted in yellow, or you send the company setup code via SMS (text messaging rates may apply).

 SMS Notifications

To receive an SMS message, the receivor must have a valid US-based mobile phone number.
At this time, SMS notifications are supported in the USA.
Setting Up ExakTime Mobile
Open ExakTime Mobile on your phone from your home screen or app drawer. It may also be named "ExakTime".

Press I Have A Company Setup Code.

Enter the company setup code provided by your ExakTime administrator and then enter a name for the device (e.g. John's Phone or Office Tablet.) Click Setup when finished.

ExakTime Mobile will download the necessary data from ExakTime to complete the setup and allow you to use ExakTime Mobile. Once completed, you should see the following PIN pad screen.
Using ExakTime Mobile
Handouts
To help ease your employees into the use of ExakTime Mobile, we have also created some short printable guides for them to reference in English and Spanish linked below.
Quick Start Guide
These pamphlets are intended to be printed double-sided to distribute among your employees in the field. These can be handy for the foreman to keep on-site in case a new employee arrives on site.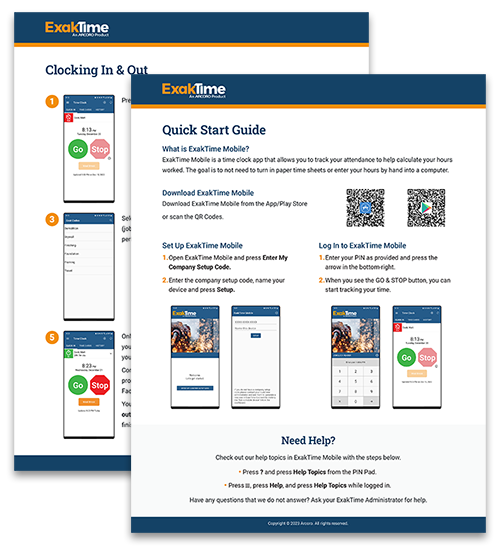 Quick Start Pamphlet Color English
 Quick Start Pamphlet Color Spanish
Quick Start Packet
A welcome packet complete with a welcome letter, data usage of ExakTime Mobile, and how to clock in on ExakTime Mobile in English and Spanish. Can be useful to keep in the office for new employees to read and review.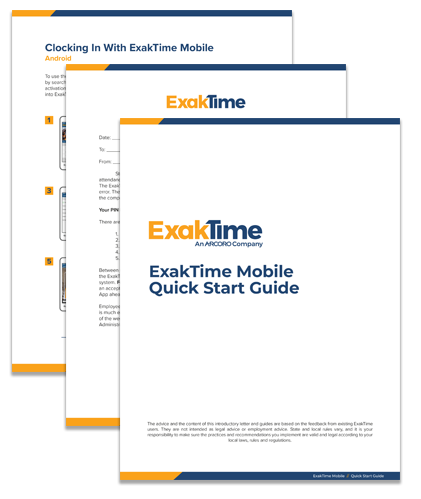 ExakTime Mobile Quick Start Packet English
 ExakTime Mobile Quick Start Packet Spanish
ExakTime Mobile Frequently Asked Questions
Some commonly asked questions for ExakTime Mobile have been consolidated into a dedicated article.