The Filters tab allows you to filter the output of the export.
For most exports, you will use this feature to exclude any test employees in the system. It is recommended when adding test employees, you use a standard naming convention. For example, if all of your test employees have the last name "Test", you can have the filter exclude any Employee with the last name of Test from the export's output.

Setting Up a Filter
Select the field that will be used to filter the Export from the drop-down menu.
Select the Qualifier from the drop-down on how to include or exclude data.


Equal To
Not Equal To
Less Than
Greater Than
Less Than Or Equal To
Greater Than Or Equal To
Is One Of
Is Not One Of

Enter a specific alpha-numeric value in the Value field. The value must be a valid value for the field selected.
Click Save when finished.
Adding Multiple Filters

After adding a filter, a Conjunction drop-down will be available to allow you to create multiple levels for filters with an "OR" or "AND".
For example:
First Filter: "Last Name" "Not Equal" to "Test"
Second Filter: "AND" "Employee SSN" "Not Equal" to "123456789"
Deleting a Filter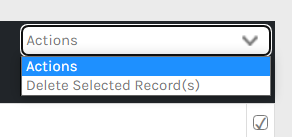 To delete unnecessary/obsolete filter(s), select the filter(s) with the checkbox on the far right-hand side and use the Actions drop-down option, Delete Selected Record(s).