GeoTrakker is a feature of ExakTime that allows ExakTime Mobile to track the movement of an employee's mobile device for further review on ExakTime Connect. Please read through this entire article before using GeoTrakker to properly set up the feature.
Before Activating...
We would recommend consulting your local labor council before activating this feature to make sure that is in line with any pre-established guidelines or rules.
Table of Contents
Requirements
For GeoTrakker to work for your employees, you must first:
Enabling GeoTrakker for Employees
To use GeoTrakker, you must first enable it for the appropriate ExakTime Mobile Security Role. Any employee associated with the group will have their relative position tracked throughout the day based on their mobile device's location services. The default Administrator role cannot have GeoTrakker enabled as it is intended to help keep employees accountable and it is assumed that an Administrator can be trusted. If an Administrator needs GeoTrakker, a new security role will need to be added with the necessary permissions enabled.
Go to Manage and click Security Roles.

Select the existing ExakTime Mobile role that needs GeoTrakker or create a new security role. If an Administrator needs GeoTrakker, a new security role will need to be added with the necessary permissions enabled as the default Administrator role cannot be modified.

Enable GeoTrakker from the list of available permissions.

You can also allow your ExakTime Mobile users to view their GeoTrakker data or see GeoTrakker data of other users within ExakTime Mobile within their viewset.

Enable other permissions for the security role. For more information about the ExakTime Mobile security role permissions, you can refer to the following article.
Click Save at the bottom when finished.
Assign the security role to your employee(s) if they do not currently have the security role assigned. If you are unfamiliar with assigning a security role, you can follow the steps in the following article to assign security roles through the security roles page or through an employee profile.
Your employees will need to sync their copies of ExakTime Mobile to get any new changes.
Disable Auto Log Out
A common setting used for ExakTime Mobile is to have ExakTime Mobile auto log out the employee after they clock in/out which can affect GeoTrakker usage. To give GeoTrakker the best chance of success, this "auto log out" option should be disabled on all devices which can be done via Mobile Settings in ExakTime Connect.
Go to Manage and click Mobile Settings.

Enable Mobile Settings if it is not enabled.

Scroll down towards "Automatically log out after clocking in or out" and make sure it is set to "No."

Save your changes.
Your employees will need to sync their copies of ExakTime Mobile to get any new changes.
Location Services Permission
To ensure that ExakTime Mobile can receive the GPS information from the mobile device, you will need to make sure that ExakTime has permission to use location services. Employees may not allow ExakTime Mobile permission to use location services as the request will appear on their phone and they may disallow it out of habit.
If using iOS
Open Settings
Go to Privacy.
Go to Location Services.
Look for and tap ExakTime.
Select the appropriate location services option for GeoTrakker. We recommend selecting "Always".
Enable the necessary permissions.
If Using Android
The steps below may differ depending on the manufacturer and version of Android, but the idea is consistent.
Open your App Drawer
Press Settings
Press Apps (May also be called Applications, App Manager, etc.)
Look for and tap ExakTime
Press Permissions
Tap Location, select "Allow all the time" and enable "Use precise location."
Disable Android Battery Optimizations
Recent Android devices try to optimize battery life by preventing the phone and apps from performing certain actions in the background. While this can prolong the battery life of a device, it can prevent ExakTime Mobile from generating GeoTrakker information. For the best chance of success, it is recommended to whitelist ExakTime Mobile from battery optimizations. If you are unsure how to do this, you can refer to Disabling Battery Optimizations for Android Devices for GeoTrakker
What Employees Do
For GeoTrakker to start tracking an employee, the following needs must be met:
The employee has clocked in.
The employee is logged in.
ExakTime Mobile is open (Open in the background can be fine).
If the employee clocks out, logs out of ExakTime Mobile to the PIN pad, or force closes ExakTime Mobile, GeoTrakker can stop tracking.
GeoTrakker will also only track the LAST user that has clocked in and is logged in to a particular device. If multiple employees are sharing a device, it will only track the last employee to clock in.
What GeoTrakker Will Do
GeoTrakker will record the device's GPS position periodically, such as every few minutes.
If the mobile device is idle and not moving, it will record the device's GPS position every 5 minutes.
ExakTime Mobile will generally send any recorded GPS data every 15 minutes to ExakTime Connect. This can differ depending on the settings of the mobile device that can prevent communication with the internet.
GeoTrakker & Battery Life
GeoTrakker may shorten a device's overall battery life as the device is using location services more frequently to generate location data.
If the battery level of a device reaches 20% or lower, GeoTrakker will stop tracking.
For Android Users
If the employee is using Android OS 8+ and ExakTime Mobile 2.75+, the employee only needs to be clocked in and logged in to ExakTime Mobile. If ExakTime Mobile is closed, either internationally or from Android RAM optimization, GeoTrakker data may still be generated and collected. The employee must set their Location permission to always allow access, even if the app is not in the foreground. Keep in mind that ExakTime Mobile may still be affected by device-level settings such as battery restrictions to limit background activity.
Confirming that GeoTrakker is Running
To confirm that GeoTrakker is running, an employee can press the crosshair icon at the top of the Time Clock section of ExakTime Mobile. The map will show the relative position of the employee based on what ExakTime Mobile is receiving from the device.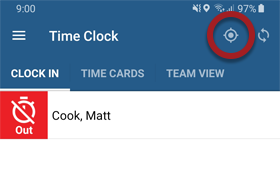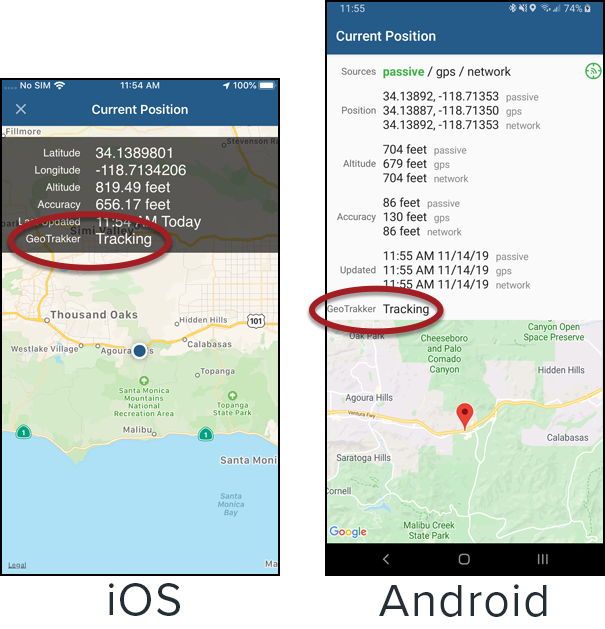 Viewing GeoTrakker Data
Your employee's recorded GeoTrakker data can be reviewed from either ExakTime Connect or from ExakTime Mobile.
From ExakTime Connect
Please Note: When conducting a search for location data with the Map View feature, Employee GeoTrakker information may not be available for dates older than three months in the past.
Go to Tools in the top menu bar and click MapView

Click the GeoTrakker tab to the left of the map.

Select the employee in the listing.

The map to the right will populate with the employee's GeoTrakker data. The map can be toggled to show a road or aerial map in the top right of the map. The map can be set to show a road or aerial view.

It will show all GeoTrakker information by default or show only "Important" GeoTrakker information.

Below the map is an option for the playback of the employee's route that day.
From ExakTime Mobile on Android
Press the menu symbol in the top left of ExakTime Mobile.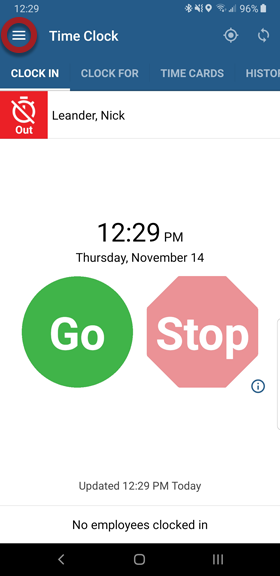 Press GeoTrakker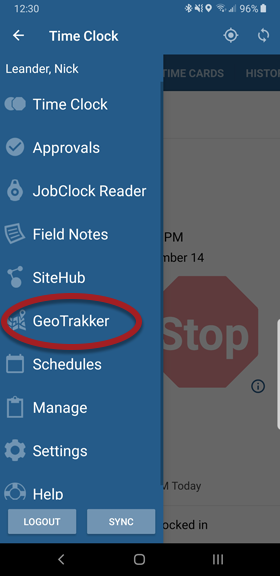 Select the date to review (up to 3 weeks in the past), employee and press Update.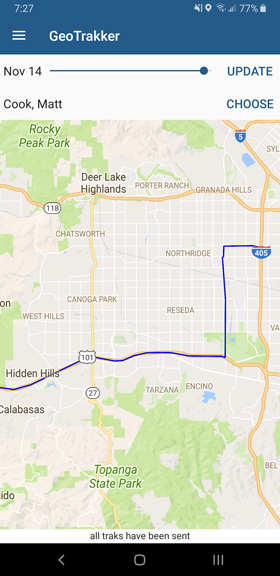 From ExakTime Mobile on iOS
Press the Menu symbol in the top left of ExakTime Mobile.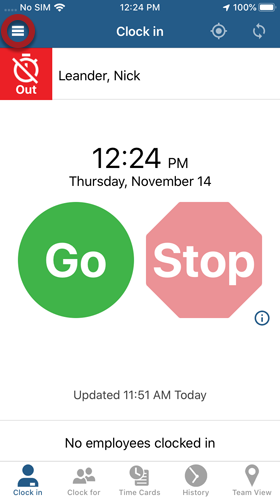 Press GeoTrakker.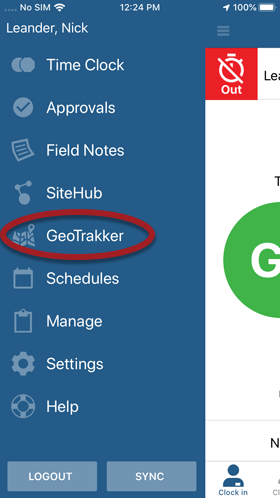 Selecting the date to review and select the employee.