ExakTime Mobile is our mobile app that allows Android and iOS users to clock in/out, review their time cards, and other functions such as sending Field Notes.
As ExakTime Mobile has many different functions and uses, we will have a short summary of the sections and links to more detailed articles for easier review. The functions listed below may not be present for all employees as you can tailor their experience/abilities with the Security Roles sections of ExakTime Mobile.
For more information regarding ExakTime Mobile Security Roles, please refer to the following article: ExakTime Mobile Permissions And What They Do
Menu
Pressing the three lines in the top left of ExakTime Mobile allows you to open the menu for ExakTime Mobile and access many possible functions/features.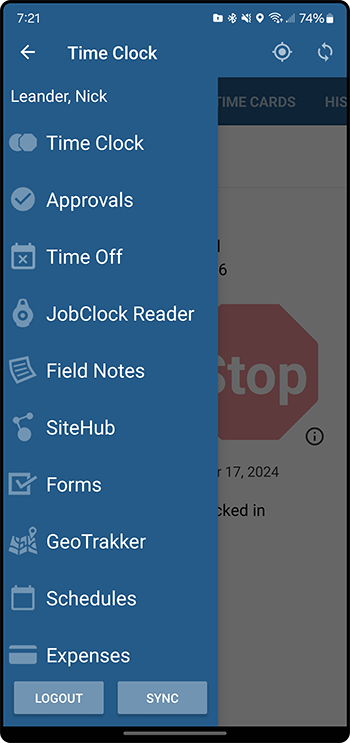 Time Clock - Where employees can clock in/out and review their time records.
Approvals - Employees can approve their own or other employees' time cards.
Time Off - Request time off and review previous requests.
JobClock Reader - Collect from supported JobClocks via Bluetooth.
Field Notes - Send pictures, notes, and audio recordings to ExakTime Connect.
SiteHub - See some recent punch activity at a location, navigation, and nearby hospitals/restaurants.
Expenses - Submit an expense for review in ExakTime Connect.
GeoTrakker - Review GeoTrakker for the employee that is logged in or other employees.
Manage - Review and add employees, locations, cost codes, equipment, and/or crews/groups.
Settings - Adjust how ExakTime Mobile functions for this device such as how often ExakTime Mobile syncs if it auto logs out, how names are displayed etc. Some settings are only accessible with a specific ExakTime Mobile security permission.
Help - Access some ExakTime Mobile help resources and miscellaneous information for troubleshooting.